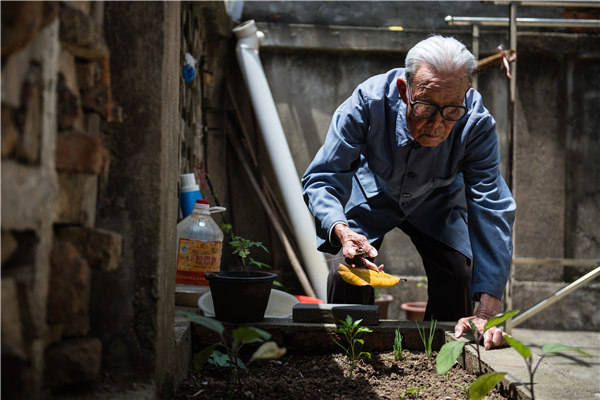 The oldest survivor of the Nanjing Massacre died on Sunday, leaving fewer than 100 survivors, the Nanjing Massacre Memorial Museum said on Monday.
National leaders will hold a public memorial service on Wednesday at the Memorial Hall of the Victims in the Nanjing Massacre by Japanese Invaders.
Guan Guangjing died three days before the National Memorial Day for the victims of the Nanjing Massacre at the age of 100. He was bedridden for six months with a heart attack and died at home from multiple organ failure, his 76-year-old son-in-law, surnamed Liu, said by phone.
Guan provided a statement for "Conclusive Evidence: Memoirs of the Japanese Invaders' Bombing of Lishui" published by Nanjing Publishing House in November 2016. The book contains the oral accounts of 31 survivors of the November 29, 1937 bombing of Lishui County, Nanjing, which claimed more than 1,200 lives.
He said in the book that he hid under a large rock during the bombing and witnessed the killing of his neighbors, including four generations of the family surnamed Sun.
In December 1937, when Nanjing, the capital of China, was occupied by the Japanese invaders, more than 300,000 Chinese were killed by the Japanese invaders.
The staff of the memorial said that Mr. Guan described how he had witnessed the killing of Japanese invaders many times.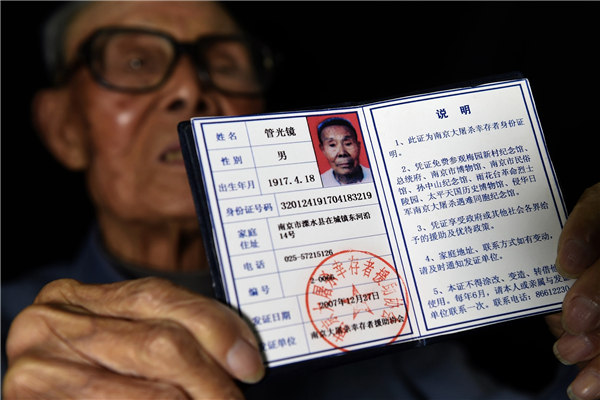 December 13 is Memorial Day, and this year marks the 80th anniversary of the Nanjing Massacre.
"Guan was an orphan before 1937 and had no siblings. Five years ago, his wife died at the age of 84," Liu said.
Netizens mourned him after the memorial announced his death on Sina Weibo on Sunday.
Weibo said that Guan Yuan was a cooper in Lishui County and lived a frugal life. It said he was always helpful and highly respected in the local community.
It also said his family donated several of his personal belongings to the memorial, including a paper fan, a watch and a teapot.
Zhang Sheng, a professor of history at Nanjing University, said only about half of the more than 90 survivors could articulate their thoughts clearly because most were over 85.
Wu Lisong, a lecturer in history at Nanjing University, said the public used to think that the pain of survivors would pass, but now realize that the pain will last a lifetime.
"When people in Japanese military uniforms appear on TV screens, some of them get terrified, and some get annoyed when people mention those years to them," Wu said, since September 2016. Since then, he has led a project that collects survivors' dictations.
"Neither apologies nor reparations can reverse the trauma of victims and survivors, but we must still clarify history, which can be the starting point for reconciliation," he said.
Contact the author zhouwenting@chinadaily.com.cn