Medical regulation during Covid-19 pandemic, will require not only the doctors, but also the public, other healthcare practitioners, health employers, as well as the Medical Council to acknowledge that these are indeed unprecedented times, writes Lloyd Mudiwa
The Medical Council is required to take action in the public interest where it is believed that a clinician has serious failings in his/her practice, and can impose restrictions on the doctor's registration, which would restrict or remove their right to practise medicine in Ireland. The medical regulatory body received a record number of new complaints totalling 431 (involving 485 doctors) in 2019, the highest number in a calendar year, according to the Council's latest annual report, (Medical Council receives record complaints).
Against this backdrop, it is important that Kingram House acknowledges that the Covid-19 pandemic has so far and will, for a long time after, continue to have a significant impact on the Irish health service countrywide.
The health system and its staff have so far and will continue to come under unprecedented pressure during what has so far been and will continue to be a very challenging time for medical practitioners.
The role of the doctor
When deciding on the best course of action at any time including in these challenging times, medical practitioners should consider what is within their own area of competence and their own safety while deciding what is best for the patient. Clinicians should recognise any areas of practice where they are not proficient.
They should strive to follow their clinical judgment and best practice, insofar as possible; relevant clinical guidelines; and the Guide to Professional Conduct and Ethics for Registered Medical Practitioners (Amended) 8th Edition 2019, as far as is practical, in the current climate.
The Council encourages doctors to remain calm and exercise their clinical and professional judgment.
In recent years, the medical regulator has received an increased number of complaints relating to "communications" between doctor and patient, from 126 in 2017 to 170 in 2019, according to the Medical Council Chief Executive's report for 2019.
In this issue of Irish Medical Times (page 10), the Medical Protection Society's Clinical Risk Educator Diane Baylis explains why good communication is essential in ensuring patients receive safe care and may also reduce the likelihood of complaints and claims against doctors.
Notwithstanding doctors following the above recommendations, emergencies and unusual situations will arise.
The Council's other role
While the Council has a statutory role in protecting the public by promoting the highest professional standards among doctors practising in Ireland, it is now more important than ever that it balances this with its other role — that of supporting doctors.
So, it is good that Kingram House has already reassured practitioners that it recognises that the current times will require temporary changes to normal practice and that it, as a regulator, will take this into account.
It recognises that the Covid-19 pandemic will require doctors to be flexible in the way they work and that this may involve working outside their normal clinical practice, and in unfamiliar circumstances.
This will be difficult and practice in such situations may be very stressful, the Medical Council recognises.
While medics are encouraged to follow their professional judgment and assess all risks to ensure patients, as a priority, receive safe care, by acting responsibly and reasonably, and by being able to explain their actions and decisions if required, the Council should acknowledge these are unprecedented times, that challenges will arise, and that the current state of affairs is new.
This will require the Council communicating widely with the public, employers, and other healthcare practitioners that any complaints about medical professionals are considered on the specific facts of the case, and the particular situation in which the doctor is working.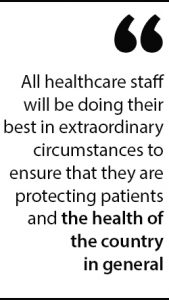 In addition to acknowledging the amazing hard work and professionalism exhibited so far by its registrants, the Council should continue to support them all at this difficult time.
It should urge doctors to practise self-care, to eat well, rest as much as possible, and look after their own health.
The role of patients
Likewise, the Medical Council should inform patients Covid-19 will have a significant impact on the health system over the coming months and possibly years, and that doctors will be working incredibly hard to ensure they receive appropriate care.
That doctors and healthcare teams will be under considerable pressure, and the impact of Covid-19 means they need to deliver care in different ways and may have to rearrange non-urgent care, and some treatments may be delayed.
All healthcare staff will be doing their very best in extraordinary circumstances to ensure that they are protecting patients and the health of the country in general. And the public can all help by being understanding of the pressures on healthcare staff at present and ensure they treat them with respect and empathy.
The Council should also stress the importance for patients to take measures such as following all relevant Health Service Executive guidelines, to self-isolate, practice good hand hygiene, physical distancing and take care as this will help ease the pressures on healthcare staff and keep everybody else safe.
Fitness to practise
It is also imperative for the Council to stress that it can only act on complaints of a serious nature and to do with a doctor's fitness to practise.
It may also be no harm to remind the public and other healthcare professionals to, in the first instance, consider directing their complaints locally (where care was received), to the doctor directly or to the healthcare setting. Most complaints can be dealt with successfully locally if given a chance.
In the same light, complainants should be advised that the Medical Council's role is determined by the law of the land (in this case the Medical Practitioners Act 2007) and that the medical regulatory body can only deal with complaints against individual doctors made based on seven grounds.
These grounds include, professional misconduct, poor professional performance, a relevant medical disability (a physical or mental disability [including addiction to alcohol or drugs] that may impair the doctor's ability to practise medicine or a particular aspect of medicine), and a failure to comply with one or more condition(s) attached to a doctor's registration.
The other grounds are a failure to comply with an undertaking given to the Medical Council or to take any action specified in a consent given in the context of a previous inquiry, contravention (infringement) of the Medical Practitioners Act 2007, and a conviction in the State for an offence triable on indictment or if convicted outside the State, for an offence that would be triable on indictment in the Irish courts.