Dr Peadar Gilligan, Consultant in Emergency Medicine, thanks Dr Michael Gaffney for a very considered and thought-provoking article, and concurs with his thinking on the urgent need to address acute hospital capacity deficits in Ireland
I write to congratulate Dr Michael Gaffney who wrote the article entitled 'Health matters: Do we care enough?' (IMT August 2020). I would also like to congratulate him on his own personal courage in taking up a specified purpose contract with the Health Service Executive due to the temporary emergency measures to manage Covid-19. He references the courage of those working in the health system and I, on behalf of those currently working, would like to acknowledge those retired workers who returned to help in the fight against the Covid-19 pandemic.
Given the nature of the Covid-19 illness and its particularly severe effects in older patients, I think it important that Irish society specifically acknowledges those who took yet further risk to their own health by making themselves available to facilitate patient care during the pandemic.
Dr Gaffney writes with great clarity about the issue that has been a feature of my entire consultant career. That issue being the inadequate bed capacity in the Irish acute hospital system creating crowding in emergency departments (EDs) and delays to the delivery of patient care, both, on an emergency and planned basis. He notes that when he worked in the "Casualty Department" of the Richmond Hospital in 1978 that there was most emphatically no issue with crowding of the ED or delays to admission. He further notes that the reason for this was that there was an adequate acute hospital bed base to deliver on the healthcare needs of the population at that time.
Peer-reviewed literature
Dr Gaffney sets out, by reference to the existing peer-reviewed literature, that Ireland saw approximately one-third of the acute hospital bed base removed from the system between 1980 and 2015. It will be no surprise to any of your readers that in fact, the issue of crowding of EDs and cancellation of planned hospitalisation started to be an issue in the 1980s and has increased year-on-year since then.
Bed capacity deficits
I absolutely concur with Dr Gaffney that the only way to address the inadequate bed base is to deal with it directly and provide the acute hospital beds that the population of Ireland needs. As Dr Gaffney will be aware the Covid-19 pandemic has made it very clear to us that occupancy rates in acute hospitals in excess of 80 per cent compromise the timely delivery of care for those requiring scheduled and unscheduled care.
The physical distancing needed to reduce the risk of hospital-acquired infection and specifically the risk of the spread of Covid-19 within hospitals means that we need to reduce the number of patients in ward areas. This is only possible if we actively develop a plan to increase our acute hospital bed capacity and start to deliver on that plan now. In the context of a world with Covid-19 not less than 5,000 additional acute hospital beds are needed urgently with further beds required in nursing homes, respite care, convalescent and rehabilitative facilities.
I am absolutely cognisant that this represents a very significant capital spend on health in Ireland but without that significant capital spend, patient suffering will worsen.
Dr Gaffney clearly sets out concerns in relation to the impact of any initiative which will reduce the income obtained by the public hospital system currently. He refers specifically to the Sláintecare Report of the Committee on the Future of Healthcare and the intention to remove all private practice from public hospitals. His concern is that this will reduce hospital income and, therefore, the ability of those hospitals to fund the care that they provide. I agree with Dr Gaffney's concern that the provision of timely access to healthcare on the basis of clinical need and ability to pay does not delay access to that care, and can only be achieved if there are sufficient acute hospital beds and staffing for those patients requiring hospitalisation.
The major challenge
My daily life involves delivering accessible care in the ED. The major challenge that I have is when I see a patient so sick that they require hospitalisation the most significant delay they will face is waiting for a ward bed to become available. The Irish health system runs constantly at levels of excessive occupancy of its inadequate capacity. Sláintecare can only be advanced in the context of a very significant capital spend to markedly increase the available acute hospital bed numbers.
Addressing the access issues
The increased bed numbers must happen first to address the access issues.
With respect to the issue of the historic arrangement where general practitioners (GPs) could arrange for their patient to go directly to a hospital bed, Dr Gaffney points out that this was a system that worked very well in his experience in the 1970s and 80s.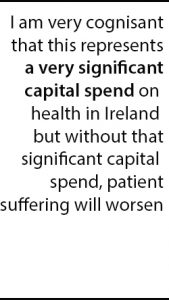 When our colleagues in General Practice refer a patient to the ED, they are sometimes looking for expedited investigations. They may be seeking a second opinion in relation to their patient. They may be seeking hospitalisation of the patient. It is the experience of most of the EDs in Ireland that approximately 20 to 24 per cent of patients referred by their GP go on to require actual hospitalisation and the majority in excess of 75 per cent of patients referred by their GP can thankfully be returned to the care of their GP following the care delivered in the ED.
The challenge for the timely delivery of care in EDs is that many of them work at an excess of 200 per cent occupancy with all of their clinical care spaces occupied by either patients awaiting hospital admission or patients undergoing assessment or awaiting that assessment to take place.
Clearly having a situation where patients who have completed their emergency medical workup and who are awaiting a hospital bed following the agreement of the admitting services that admission is required, is an entirely inappropriate use of the ED and creates the challenge of the "long and painful purgatory" that Dr Gaffney refers to.
Political failures
As I have noted before, EDs must be facilitated in the provision of the care that they are now capable of delivering. To treat EDs as human warehouses where very sick patients are forced to wait pending the eventual availability of a hospital bed can no longer be the default position of the Irish health service.
Our politicians felt the need to convene the All Party Oireachtas Committee on the future of health care in June 2016. What this special committee failed to address in real terms is the massive capacity constraints in the system. It is all very well our politicians telling us how they feel the health service should be delivered yet it is politicians who failed to achieve and deliver the necessary resourcing of the health service over a four-decade period and this inadequate resourcing has led to the access issues that our entire population face.
Every doctor in Ireland wants to be in a position to treat patients on the basis of their clinical need in a timely manner. Surgical colleagues are frustrated by their inability to have patients admitted for planned surgery. Medical specialists are frustrated by their inability to fully investigate patients and institute therapy on a planned basis because of the lack of capacity in the system. Emergency Medicine specialists have been at the forefront of advocating for the need to address the acute hospital capacity deficits in Ireland for over two decades.
Again, I would like to thank Dr Gaffney for a very considered and thought-provoking article. His 44 years of exposure to the Irish health system clearly informed this article. I hope that those who would seek to improve access to care in Ireland take note that the only way that we can improve access to care is by having access to beds and we need those beds to be built now.

Author
Dr Peadar Gilligan, a former President of the Irish Medical Organisation, is a Consultant in Emergency Medicine.