Anthony Albanese opposes persecution of WikiLeaks founder but refuses to ask US to release him
Australian Prime Minister Anthony Albanese announced, "Nothing to serve" Put WikiLeaks founder Julian Assange behind bars.He claimed he was working behind the scenes with Washington to find a solution to the case, but described the process as "depressing."
"This needs to be concluded," Albanese told Australia's ABC broadcaster in London on Thursday. "While it needs work. We are working through diplomatic channels and we are making our position on Mr Assange's case very clear."
Australian citizen Assange was arrested in London in 2019 after Ecuador revoked his asylum status and allowed police to remove him from the country's embassy in the British capital. He is currently being held in Belmarsh Prison, where his legal team is fighting his extradition to the United States. U.S. authorities have brought Assange 17 charges under the Espionage Act, which carry the death penalty.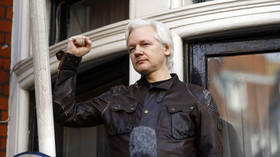 The allegations stem from his release of classified material obtained by a whistleblower. The most famous of these is Chelsea Manning, who in 2010 provided WikiLeaks with classified material accusing the United States of committing war crimes in Iraq and Afghanistan. Even though Assange did not decipher the material himself, he was charged for publishing it.
Albanese has repeatedly condemned Assange's detention, but rejects demands by journalist's family to raise extradition question "non-negotiable" with the United States.On Thursday, he declined to say whether he would raise the topic with U.S. President Joe Biden at a meeting of the "quartet" of leaders in Australia next month, explaining that "The way diplomacy works probably isn't predicting the discussions you're going to have or have had with leaders of other countries."
"I know it's frustrating. I feel the same way. I can only be very clear about where I stand," he told ABC.
Assange's extradition was approved last summer by then home secretary Priti Patel. However, lawyers for the WikiLeaks founder are currently appealing the decision, arguing that his health and mental state are deteriorating and that his extradition to a high-security US prison would amount to torture.
You can share this story on social media: