President Joe Biden and House Speaker Kevin McCarthy have agreed "Tentative" After a lengthy phone call Saturday night, the two sides agreed to raise the debt ceiling and limit federal government spending. However, the bill has yet to be finalized and voted through Congress before the government runs out of cash to pay its bills.
"I believe this is an agreement in principle that is worthwhile for the American people. It makes historic spending cuts, and the reforms that follow will lift people out of poverty, into the workforce, and rein in government overreach ," McCarthy told reporters.
House Speaker says draft bill contains "Much more," but say "We still have a lot of work to do," He declined to answer any questions until he informed other party members of the progress. There will be an all-Republican House conference call later Saturday on the progress of the talks, according to Fox News sources.
On Saturday, Biden and McCarthy spoke twice on the phone, one lasting more than 90 minutes, trying to hammer out a compromise.this "Framework Agreement" negotiated during these "Extended Discussion", But Bloomberg, citing people familiar with the matter, said the exact wording had not yet been finalized amid opposition from hard-line Republican and Democratic lawmakers.
McCarthy has promised to release the text of the bill on Sunday and hopes to hold a vote on Wednesday, May 31 — just days before the government is expected to run out of cash.
U.S. Treasury Secretary Janet Yellen initially warned her department could run out of money by June 1, but said on Friday it may meet its obligations by June 5. Economists warn that if a deal is not reached in time, the U.S. will default on even some of its bills, which could trigger a market crash and damage confidence in the dollar in the long run.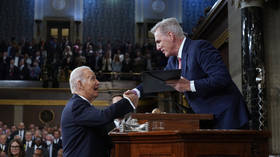 International Monetary Fund (IMF) Managing Director Kristalina Georgieva has criticized Washington's debt-ceiling impasse, saying a U.S. default would have major knock-on effects on world economic prosperity.
"The U.S. Treasury market is the backbone of the stability of the global financial system," Georgieva told a news conference on Friday following the IMF's Article IV consultation with U.S. economic data. "You're anchored, and the world economy — the ship we're all on — is in choppy and, worse, uncharted waters."
You can share this story on social media: