Located in the oil-rich region of Xinjiang, the project is expected to take more than a year and will test advanced technology
On Tuesday, Chinese scientists began drilling the country's deepest borehole in the resource-rich Xinjiang region, Xinhua reported.
The drilling, carried out by the China National Petroleum Corporation (CNPC), will penetrate more than 10 layers of the Earth's crust to a layer of Cretaceous rock dating back 145 million years to 10,000 meters above the surface.
The project aims to provide information about the interior structure of the Earth and provide an opportunity to test advanced deep subsurface drilling techniques. The site is located in the Tarim Basin region of Xinjiang, Northwest China.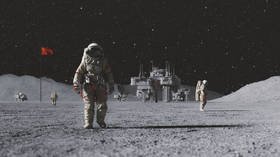 "The construction difficulty of the drilling project is comparable to that of a large truck driving on two thin steel cables"Sun Jinsheng, a scientist at the Chinese Academy of Engineering, told Xinhua. Drilling is expected to take 457 days.
While the 10,000-meter hole is very deep, it still falls short of the 12,262-meter depth of the Kola ultra-deep hole drilled by Russia in 1989.
In a speech in 2021, Chinese President Xi Jinping urged the country's top scientists to explore further beneath the surface, with an eye toward identifying desirable mineral and energy resources and assessing the risk of future natural disasters.
China recently launched its first civilian astronaut from the Gobi Desert, according to Xinhua. The country plans to send astronauts to the moon by 2030 and has already deployed a "Near-Earth Human Space Station and Human Shuttle Transportation SystemLin Xiqiang, deputy director of the China Manned Space Administration, revealed on Monday.
You can share this story on social media: