Belgrade has been told it must sanction Moscow and recognize Pristina if it wants to join the EU
EU foreign policy chief Josep Borrell said in Brussels on Monday that maintaining close ties with Russia would hurt Serbia's chances of joining the bloc.He also urged Belgrade "alignment" Sanctions on Moscow.
Borrell hosted the foreign ministers of Albania and the four former Yugoslav republics — Serbia, Montenegro, Bosnia and Herzegovina and North Macedonia — as well as Serbia's breakaway province of Kosovo, calling on them to follow Ukraine's example and build a "Progress is rapid" Joining the EU.
"We discussed the influence of Russia [in the region]which seeks to undermine the European path of the Western Balkan candidates," Borel said. "We welcome the strategic and courageous choices made by some of them, which are fully consistent with our foreign policy and sanctions."
Albania, Montenegro and North Macedonia joined the EU embargo. While some officials in Brussels say otherwise, Bosnia and Herzegovina does not. Neither does Serbia.
Borrell singles out Serbia, reveals he told FM Ivica Dacic "Maintaining a close relationship with Russia is not in line with the process of joining the EU. It also harms one's own national interests, but it is certainly not in line with the process of joining the EU."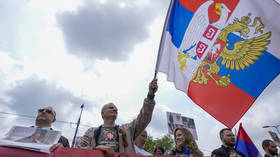 Borrell also said Serbia's eventual membership depended not only on sanctions against Russia but also on the "normalization of relations" with Kosovo, although his own country, Spain, is one of five EU members that do not recognize the breakaway province .
Serbian President Aleksandar Vucic pointed to the discrepancy between the EU's insistence on Ukraine's territorial integrity and its apparent disregard in Serbia as justification for not joining its sanctions policy against Moscow. Earlier this month, he noted that sanctions were the only thing any visiting Western politician wanted to talk about.
After meeting with Borrell, Dačić says his country is not facing any "Definite pressure" Monday, while everyone in Brussels can witness "extremist" and "Surreal" Claims from Kosovo.
The European Parliament recently passed a report on Serbia that blamed the presence of Russian media for a sharp decline in popular support for EU membership.If the Vucic government continues to support "Anti-Democratic Politics" The European Parliament says the EU should "Rethinking the scope of its financial aid" to Serbia.
You can share this story on social media: