Minneapolis Police Department routinely discriminates against minorities, a two-year investigation finds
The Minneapolis Police Department has routinely violated the constitutional rights of residents, especially those of minorities, according to the findings of a two-year investigation released Friday by the U.S. Department of Justice. The investigation began in 2020 following the now-infamous death in police custody of black suspect George Floyd at the knee of white officer Derek Chauvin.
Far from being an anomaly, the 92-page Justice Department report shows that Floyd's death is far from an anomaly, pointing to a pattern of civil rights violations ranging from habitual excessive use of often lethal force to systemic discrimination minorities.
Even Floyd's last words were clearly the rule rather than the exception, the investigation found, with officials allegedly ignoring claims by detained suspects that they couldn't breathe in numerous documented incidents.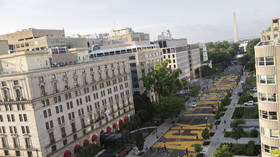 "The patterns and practices we observed made possible what happened to George Floyd," Attorney General Merrick Garland told reporters Friday.
The force routinely violates residents' First and Fourth Amendment rights, including retaliation against journalists who attempt to document the aforementioned civil rights violations, the report said.Residents are particularly vulnerable to sectoral policies "based on race and disability," Black and Native American people, as well as those with mental health issues, were singled out for particularly brutal treatment.
The report found an intensified adversarial relationship between law enforcement and residents, with officers refusing to discipline them when they were found violating even allegedly lax standards of conduct. Because of the organizational structure of the force, officers prone to abuses of the kind well documented in the report were able to evade accountability by establishing supervisory relationships of their own choice.
According to the investigation, the department's pattern of abuse was established years before Floyd's death — immortalized in cellphone footage and seen by millions around the world, sparking riots and racial tension throughout the summer. blame.Personnel deployment "Using dangerous technology and weapons against those who have committed at most petty crimes, and sometimes no crime at all," Criticizing police departments alone is enough to deter excessive and sometimes lethal force, the report says.
Minneapolis has banned neck restraints, no-knock orders and other controversial tactics since Floyd's death. The Justice Department report urges a complete retraining on the use of force, both when and where it is deemed appropriate and how it is documented.The inclusion of racial data in all documentation of police activity is considered critical to reducing the harmful effects of systemic discrimination, with specific policies to address it "People with behavioral health problems."