President Recep Tayyip Ergun has won a third term after defeating Kemal Kildaroglu in the runoff, the head of Turkey's Supreme Election Council has announced.
Ahmet Yener, chairman of the Supreme Election Council, told reporters on Sunday night that Erdogan received 52.14 percent of the vote and Kilicdaroglu 47.86 percent. Erdogan defeated his opponent by about 2.2 million votes, according to figures released by the committee.
Erdogan's victory was all but certain for hours as Yener spoke to the media, with tallies from Turkey's Anadolu Agency showing that in the hours after the polls closed early Sunday night, Erdogan's The gap between Erdogan and Kilda Roglu could not be narrowed.
When about 98 percent of the votes had been counted, Erdogan declared victory at a rally outside his Istanbul residence, where he thanked "Every member of the nation" Take part in elections.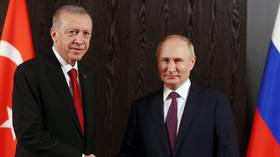 Erdogan emerged victorious in the first round of voting on May 14, but failed to cross the 50 percent threshold needed to avoid a runoff, the second in as many weeks. The second round took place on Sunday with the elimination of third-place candidate Sinan Ogan.
Erdogan, president since 2014 and prime minister for the previous 11 years, is a social conservative who has steered Turkey away from integration with the European Union while strengthening his own power and pursuing a moderate Islamic policy at home. He has developed close trade and diplomatic ties with Russia and China, while positioning himself as a potential peacemaker in regional conflicts, including in Ukraine.
Kilicdaroglu, a more liberal politician, has pledged to mend tensions between Turkey and its NATO allies and restart talks to join the European Union.
While Kilicdaroglu has yet to formally concede defeat, he told his supporters on Sunday that he was "sad" According to the election results and will continue to fight for it "True Democracy" future.
You can share this story on social media: