Turkey's incumbent hails 'Day of Democracy' that landed him victory in runoff election
Turkish President Recep Tayyip Erdogan declared victory after beating challenger Kemal Kildaroglu in the runoff.call the election "Democracy Day" thanks to erdogan "Every member of the nation" vote.
"We have completed the second round of the presidential election with the support of the people," Erdogan addressed a crowd of supporters in Istanbul on Sunday night. "For the next five years, we will rule this country. God bless we will be as worthy of your trust as we have been for the past 21 years."
Since being elected prime minister in 2003, Erdogan has been the dominant figure in Turkish politics. Having served as prime minister for three consecutive terms and two terms as president since 2014, the conservative leader will now begin his third term with a victory on Sunday.
Erdogan was speaking ahead of Kilicdaroglu with 52.07 percent to 47.93 percent after more than 99 percent of the votes were counted, according to Turkey's Anadolu news agency. Although the country's electoral commission has yet to declare a winner, Kilicdaroglu has had no chance of closing the gap.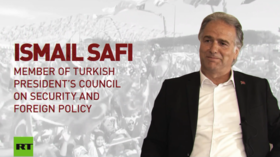 Erdogan, who has come under heavy criticism for his government's response to two devastating earthquakes near the Syrian border in February, is on a stronger road to victory this year than in previous years as Turkey's economy has been battered by persistently high inflation. Elections are longer. Erdogan defeated Kilicdaroglu in the first round of voting on May 14, receiving 49.5 percent of the support, compared with his challenger's 44.8 percent. However, as neither candidate received an absolute majority, a run-off election was declared and the third-placed candidate, Sinan Ogun, who received 5% of the vote, was eliminated.
In a speech on Sunday, Erdogan announced that Turkey's 85 million citizens "winner."
On the eve of both elections, Erdogan and his officials strongly condemned Western media for favoring Kilicdaroglu, a political centrist who has vowed to repair ties with the US and NATO and restart EU accession talks. At the end of his victory speech, Erdogan's victory had not yet been recognized by his American or Western European counterparts, but the president had received congratulations from countries including Hungary, Serbia, Azerbaijan, Qatar and Palestine.
You can share this story on social media: