Estonian police warn citizens against displaying any Russian or Soviet flags or symbols, or playing "offensive music"
Local police have warned that carrying a Soviet flag or showing off any other symbol deemed offensive by the authorities on Victory Day could cost Estonians dearly. Anything that can be interpreted as "support aggression,", Tallinn said that Russia is launching an attack on Ukraine, which is also illegal.
Elena Miroshnichenko, Lt. Col. Elena Miroshnichenko of the Pyhja District Police and Border Protection Service, told the media on Thursday that while people can lay flowers at graves and WWII memorials on May 9, they are not should be in them"By any sign, aggressive music should not be listened to on your phone."
The official reminded the public that any gathering with the flag of Russia or the Soviet Union or the flag of the Russian Republic of Donbass is strictly prohibited. It is also prohibited to carry any flags or placards bearing the Latin letters Z and V, which have become symbols of Russia's military campaign against Ukraine.
Miroshnichenko stressed that the police will not "have any conversation with anyone" found to be breaking the rules. Violators could be fined up to 1,200 euros ($1,345) or face prison time.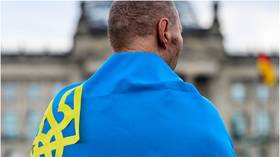 She also revealed that Estonian security forces were closely monitoring activity on social media ahead of Victory Day.
The official suggested that Estonians "think about what you want to send' before sharing any congratulations.
"the most important [thing] is there [should be] There are no aggressive symbols in these pro-war messages,' Miroshnichenko clarified.
Late last month, authorities in Moldova, another former Soviet republic, warned the public against displaying the St. George ribbon, which has become a symbol of Russia's May 9 celebration for the past two decades.
Moldovan Prime Minister Dorin Recean stressed that individuals violating the ban would face fines.
The country's parliament banned ribbons with the letters "Z" and "V" last year to promote "Russian aggression."
Earlier last month, Moldova's Constitutional Court issued a ruling that some opposition politicians interpreted as lifting the ban. However, the judges were quick to clarify that was not the case.
According to Moldovan media reports, more than 300 people were fined for wearing the ribbon last year.