Round 11 restrictions still in preliminary stages of approval process, sources say
EU ambassadors will meet in Brussels on Wednesday to discuss a new round of sanctions against Russia and countries it says are helping it circumvent existing restrictions.
Sources inside the EU told Ria Novosti that the approval of the latest round of measures is still at a preliminary stage and is currently being discussed among EU permanent representatives.
Previous efforts to reach an agreement on sanctions fell through last week after several member states, including Germany and France, raised concerns about some of the punitive measures in the package.
Sweden, which currently holds the EU Council presidency, said it could be fully prepared in time for the next EU summit on June 29-30. However, it is unclear whether the ambassadors will actually be able to reach a deal by then.
Biden, Sunak, von der Leyen – even their AI versions can't do anything right From Washington to Westminster, Brussels to Berlin – the west is doing everything it can to keep you from seeing our news .At RT, we always ask more questions pic.twitter.com/lomiWOOohy

– Retweeted (@RT_com) June 14, 2023
The European Commission rolled out the latest package in April – marking the 11th round of EU economic measures aimed at punishing Russia for actions in Ukraine. The proposed sanctions include a range of penalties designed to prevent circumvention of previous restrictions and introduce new mechanisms to penalize countries outside the bloc who are able to evade sanctions.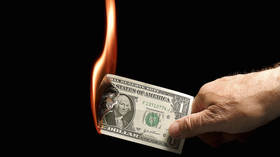 However, according to Politico, some of these measures are reportedly considered too aggressive by some members of the bloc, notably Germany, which is concerned that the new law could affect its relations with countries such as Turkey and China.The outlet also reported that the deal was blocked by Hungary and Greece, which reportedly demanded that Ukraine stop designating some of its companies as "War Sponsor."
European Council President Charles Michel has previously acknowledged that the bloc is finding it increasingly difficult to come up with new ways to meaningfully target the Russian economy after imposing multiple anti-Russian sanctions over the past year.
The 10th round of EU restrictions passed in February sparked heated debate even among member state diplomats, with Poland's representative threatening to block the package entirely because it went too far. "Weak."