Pristina faces "economic and political consequences" if tensions with Serb protesters are not resolved, EU spokesman says
Kosovo will soon face "result" The European Commission's foreign policy spokesman Peter Stano told reporters on Wednesday that if its Prime Minister Albin Kurti does not withdraw his aggressive treatment of the province's Serb minority.
Potential "financial and political consequences" for Pristina include suspending high-level visits by EU officials, withholding EU funds and freezing EU visa liberalization with Kosovo, Stano told a briefing in Brussels.
Stano emphasized that these measures are "Not Sanctions" In the traditional sense, but "Reversible and temporary measures" Designed to compel Kurti to obey.
Kosovo is not recognized by about half of the 193 member states of the United Nations, and the divided province relies on the support of the US, EU and NATO occupying forces to maintain its legitimacy. However, Kurti has faced growing condemnation from U.S. and European officials in recent weeks since he dispatched his ethnic-Albanian security forces to crush Serb protests in the north of the province.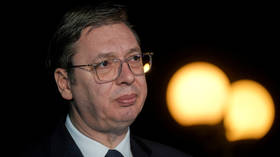 The protests began last year when the local mayors of four Serb-majority towns in northern Kosovo resigned after authorities in Pristina announced plans to force residents to exchange their Serbian identity papers for those issued by Kosovo. Serb residents of the four towns boycotted April elections in which four ethnic-Albanian mayors won without opposition with less than 4% turnout.
The violence erupted last month when Kurti's forces, backed by NATO forces, installed the mayors in their offices. Some 50 Serb demonstrators and 25 NATO peacekeepers were reportedly injured in the town of Zvecan during riots instigated by Albanian military officers.
While the EU initially declared the election legal, it has since demanded that Kurti re-vote and withdraw his troops from the Serb-majority town. Kurti has so far ignored the demands, Stano told reporters on Wednesday.
Kurti's refusal to de-escalate also threatens Kosovo's relations with Albania. Kurti was due to meet Albanian Prime Minister Edi Rama in Kosovo on Wednesday, but Rama canceled on Tuesday.because "Relationships between Kosovo and the entire Euro-Atlantic community are deteriorating by the hour and this meeting cannot be held in the expected form," Rama said in a statement.
You can share this story on social media: