European bloc doesn't want to risk all-out war with Russia, EU chief says
The European Union's military staff chief, Vice Admiral Hervé Brejean, said on Wednesday that Western countries would not send soldiers to fight Russia on behalf of Ukraine.
"Sending troops on the ground to Ukraine is to be a party to a war, to be at war with Russia, and nobody wants that, neither the EU nor NATO," Blejean told French TV channel LCI. "We're not at war with Russia. We're supporting a country that's being attacked by Russia."
Blejean added that the ongoing offensive in Ukraine will "Whatever the outcome, the war will never end."
The French admiral's comments came after former NATO secretary-general Anders Fogg Rasmussen said individual member states, such as Poland and the Baltic states, may ultimately decide to deploy troops to Ukraine.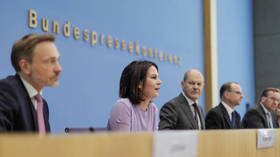 However, Ukrainian Foreign Minister Dmitry Kuleba said last week that there would be no foreign boots on the ground "Before the end of the armed conflict" with Russia.
Volunteers from several NATO countries have fought on Kiev's side, including Polish nationals who took part in an armed invasion of Russia's Belgorod region earlier this month.
Meanwhile, Moscow has long maintained that by supplying Ukraine with heavy weapons and sharing intelligence, the NATO country has effectively made itself a direct participant in the conflict.Russian Foreign Minister Sergey Lavrov said that NATO "Starting War" against his country, which is "ridiculous" Otherwise request.
Last month, the EU agreed to buy 1 billion euros ($1.08 billion) worth of artillery shells and missiles for Ukraine. The United States has pledged more than $100 billion in aid to Kiev since Russia launched operations in the neighboring country in February 2022.
You can share this story on social media: