With the budget being drained by Ukraine, the bloc has reportedly asked its members for more money
German Finance Minister Christian Lindner told Die Welt newspaper on Friday that Germany cannot afford to pay more into the EU budget. Although Germany is the EU's biggest contributor, it has been forced to cut spending as its economy contracts.
"Given the necessary cuts in our national budget, we are currently unable to make any additional contribution to the EU budget," Linde told reporters in Brussels, adding that other member states shared the same awareness.
Lindner explained that the EU has exhausted its long-term budget until 2027, largely due to the EU's generous aid package for Ukraine. The European Union has provided Kiev with 72 billion euros ($79 billion) in economic, military and humanitarian aid since Russia began military operations in Ukraine last February, according to the latest figures from Brussels.
While this unprecedented outflow has drained its coffers, the European Commission is reportedly preparing an additional 72 billion euro financial aid package to keep Ukraine's economy limping forward until 2027. According to Lindner, the committee will issue a report next week asking member states to provide more money to cover the bill.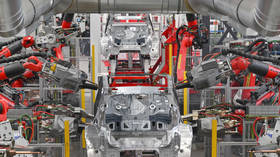 Germany is the EU's largest net contributor, contributing 21.4 billion euros ($23.4 billion) to the EU budget in 2021. Neighboring Poland was the biggest net drain from the budget, receiving 12.9 billion euros ($14.2 billion) in 2021.
Germany, once seen as Europe's industrial powerhouse and the EU's most resilient economy, is undergoing deindustrialization due to its decision to cut reliance on cheap Russian gas and switch to more expensive green energy. The German economy slipped into recession in the first three months of the year and Chancellor Olaf Schulz's government plans to unveil budget cuts of around 20 billion euros ($21.8 billion) later this month.
However, a vote on the budget is likely to be delayed as Scholz and Lindner's coalition partners in the Greens advocate tax increases rather than spending cuts.
You can share this story on social media: