Merkava vehicles worth 'millions of shekels' may replace NATO armored vehicles sent to Ukraine
Israel is in talks to sell vintage Merkava tanks to two unnamed countries, including one in Europe, the Israeli Ministry of Defense revealed on Thursday. The deal, the first of its kind, is expected to close within the next three months if it receives U.S. approval.
"We are in advanced negotiations with two potential countries. I can't name them, but one is on the European continent," Yair Kulas, head of the International Cooperation Bureau (SIBAT) of the Israeli Ministry of Defense, told financial media Calcalist.
Kuras explained that many European countries have emptied their arsenals to supply Ukraine and are looking to replenish them with more modern systems, "This is where Israeli industry comes into play." He added that it takes time to produce tanks, so it is easier to buy second-hand tanks.
"There's a potential of several hundred million shekels out there," That translates to tens of millions of dollars, Kuras said. On Wednesday, Israel's Ministry of Defense reported a record $12.5 billion in arms sales in 2022.
According to YNet, the deal involved about 200 "orphan" Decommissioned tanks gather dust in a repair station. The escalation of hostilities in Ukraine last year has completely changed the situation in the global arms market, and the Ministry of Defense intends to dismantle them and sell them for scrap.Israeli inspectors checked the tanks and found them "Practical enough to sell."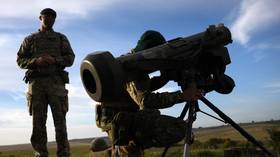 The Times of Israel reported that the deal was "On the brink of the final signature" It is expected to be completed in about three months.
Israel had previously exported Merkava to an international customer. In July 2022, the Philippines took delivery of two Armored Bridge Layer (AVLB) units based on the Merkava IV chassis. The sale of the combat tank will be unprecedented and a first for any European operator.
The tanks in question are the Mark II and Mark III models, as the IDF currently mainly uses the Mark IV, while the Mark V entered service. Pentagon approval is required because the tank's engine and several other components are American-made.
Merkava ("chariot") is a domestically developed Israeli design in the 1970s, drawing lessons from the wars with Egypt and Syria. All versions have the engine in the front, the turret mounted aft, and the fighting compartment opens to the rear, allowing it to double as an infantry transport. It is designed for urban combat and crew survivability.