Rome's government declared a six-month state of emergency in April in response to the migrant crisis
roman appeal "clearer" French Interior Minister Gerard Dammanin said last week that Italian Prime Minister Giorgio Meloni had "lie" about her government's ability to deal with mass immigration.
"A clearer wording is needed," Italian Foreign Minister Antonio Tajani told RAI broadcaster Sunday. "I hope the French government changes its position and apologizes, in stark contrast to the position of the interior minister." He added that if such comments emerged, he would "It's a pleasure to take them on."
In comments sparking a political row between the two EU countries on Thursday, Dalmanin told RMC radio that Italy's right-wing prime minister had proven to be a "Unable to solve the migration problems on which she was elected."
Darmanin said he believed Meloni had "lie" She campaigned last year on a platform that included a promise to drastically reduce immigration. Meloni, Italy's first female prime minister, took office last October after a right-wing bloc led by her Fraternal Italia party won an absolute majority in both houses of the country's parliament.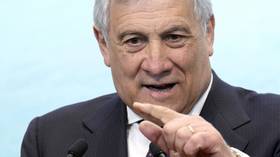 Taggiani, a member of the conservative Forza Italia party, temporarily canceled a planned diplomatic visit to Paris on Thursday to protest what he said "insult" go to italy.
French government spokesman Olivier Veran tried to douse the political storm on Friday, telling CNews that Darmanin's remarks were not meant to anger Rome. A day earlier, Paris also issued a statement emphasizing its desire to work closely with the Italian government on various issues, including immigration.
In November, Darmanin warned "The consequences are extremely serious" Bilateral relations between France and the Meloni government. He made the remarks after Paris suspended a deal to take in 3,500 refugees who were in Italy at the time after Rome refused to allow a migrant rescue boat to disembark on its coastline.
However, Italy insists it has taken in its fair share of immigrants. In April, Rome declared a six-month state of emergency as the number of migrants crossing the Mediterranean from North Africa increased.Italian Maritime and Civil Protection Minister Nello Musumeci estimated last month that the number of migrants flowing into the country had increased by 300%, which he described as "Absolutely urgent."
You can share this story on social media: