Tokyo is reportedly considering supplying shells to replenish U.S. stocks depleted by support for Ukraine
According to the Wall Street Journal, Japan is in talks with the United States to replenish Washington's stockpile by sending shells from its own arsenal. The outlet cites the example of U.S. ammunition depletion due to generous military aid to Ukraine.
For decades, Japan avoided exporting lethal weapons.
In a Thursday article, The Wall Street Journal cited "people familiar with the talks,"Claims that Tokyo can supply the US with 155mm shells.
According to reports, the plan, if approved, would not call for Japanese ammunition to be shipped directly to Ukraine.
Japan's Defense Ministry said in a statement that no decision had been made and discussions were still ongoing.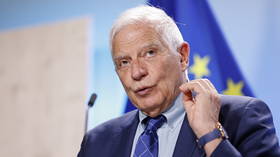 Meanwhile, a Pentagon spokesman said only that the United States continues to "Together with Japan and more than 50 countries around the world, we provide support for Ukraine."
Japan has provided Ukraine with bulletproof vests, helmets and other non-lethal military aid since Russia launched its military operation last February, but has not sent weapons to the country.
Currently, the Japanese government is prohibited from sending lethal weapons overseas under self-imposed restrictions dating back to the 1960s.
However, the country's ruling party and its coalition partners began discussing easing the rules earlier this year, and Prime Minister Fumio Kishida expressed support for doing so.
Late last month, The Wall Street Journal reported that South Korea had agreed toConfidentiality arrangement"With the United States.
According to media reports, the ammunition will first be shipped to the continental United States and then transferred to Ukraine.
Commenting on the report, a South Korean defense ministry spokesman insisted, "inaccurate partThe Wall Street Journal article did not elaborate further on the alleged agreement.
Much like Japan, South Korea has so far provided only financial and humanitarian aid to Ukraine, while not sending weapons.
Since the start of the conflict, Washington has authorized the transfer of more than 2 million 155mm artillery shells to Kiev, using its stocks in Israel, Germany, Kuwait and South Korea.
Russia has long accused the United States and its allies of arming Ukraine, saying it only prolongs the bloodshed.
You can share this story on social media: