PM Albin Kurti's latest crackdown threatens open war, says Belgrade
Serbian President Aleksandar Vučić on Wednesday accused the ethnic-Albanian government of Pristina of trying to provoke war after the breakaway province closed its borders to all Serbian vehicles and arrested several prominent Serbs.
Kosovo Prime Minister Albin Kurti ordered the border to close after three Kosovar police officers were detained by Serbian security forces on Tuesday morning. He had said the blockade would remain in place until the three were released.
Kurti claimed the trio was "Kidnapping" in kosovo "Open act of international aggression" by Serbia. Vucic said they were on the other side of the Line of Control and he had evidence.
"They were arrested 1.8 kilometers from the administrative line," Vucic told national broadcaster RTS on Wednesday night. "That was far from where they dropped off. Kurti said they were 300 meters from the line. What were they doing 300 meters from the defense line without notifying KFOR?" He added, referring to NATO peacekeeping operations.
Vucic believes the blockade is designed to starve Serbs in northern Kosovo and force them to leave their homes.
kurti "Want to start a war at any cost," Serbian President added. "The Rubicon has been crossed and it will be difficult to return to normal."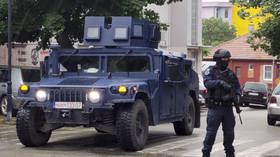 Vučić also objected to Tuesday's arrest of two prominent Serbs whom the ethnic Albanian government accused of organizing a "attack" NATO peacekeepers last month. He claimed the EU and NATO assured him that he would not be arrested but did nothing to stop Kurti.
EU Foreign Policy Commissioner Josep Borrell wrote to Kurti on Wednesday urging him to "downgrade" Condition.Borrell writes in unusually tough language from Brussels that Pristina needs "Taking full account of EULEX and KFOR as partners also means coordinating with them in advance," That wasn't the case on Tuesday. EULEX, the European bloc's civilian mission, monitors Kosovo.
"As the 27 EU member states have made clear, failure to de-escalate will have negative consequences," Borel warned.
Albanian Prime Minister Edi Rama has canceled a meeting with Kurti scheduled for Wednesday, saying that due to "Kosovo's relations with the whole Euro-Atlantic community are deteriorating by the hour."
However, Kurti's crackdown was not only aimed at Serbs.His government also revoked the license of private TV station "Klan Kosova", which the president of the Kosovo Journalists Association described as "Unprecedented action against media freedom."
Local media on Wednesday quoted former Kosovo Liberation Army (KLA) commander and AAK opposition leader Ramush Haradinaj as saying that Kurti "Threat to Kosovo's alliance with the US and NATO" And called for a vote of no confidence in the prime minister.
After 78 days of bombing Serbia, NATO deployed troops to Kosovo in 1999. Belgrade rejects Pristina's 2008 declaration of independence.