Critics of the draft constitution say it would give the president too much power
Voters turned to the polls in Mali on Sunday on a draft new constitution that the West African country's military leaders said was a step toward elections in 2024 that would restore civilian rule.
The proposed draft constitution would "Provide better organized executive power while maintaining the necessary balance with legislative power," Colonel Asimi Goita, Mali's interim president, told the nation in a speech broadcast on state television on Saturday.
Mali is currently under the rule of military officers who seized power after a 2020 coup. A second coup took place nine months later, further wresting control of the African country from what was then an interim civilian government.
According to the parameters of the proposed constitution, a bicameral parliamentary system would be established – adding a Senate to the already existing National Assembly. It would also give the Office of the President of Mali more legislative powers; the proposal has been a source of political debate in Bamako, with some arguing it provides too much power to the president.
Goita has not indicated whether he intends to run for president.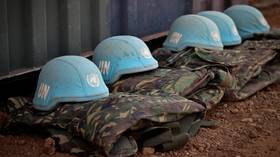 The current constitution, in force since 1992, declares "The government determines and implements national policy." Under the terms of the new proposed constitution, the Mali government will "Implementation of national policy as determined by the President."
Opponents of the junta have called on Malians to reject the draft constitution. Imam Mahmoud Dicko, a former supporter of the junta turned leading critic, told supporters in a speech on Friday, "Justice, Democracy, Human Rights and the Rule of Law" under attack in West African countries.
"What kind of democracy are we talking about?" he asked in comments published by The Independent on Sunday. "What rule of law is there in a country where justice is used by the military to suppress the people?"
Mali is still battling an Islamist insurgency that has plagued the country for much of the past decade. Turnout among the country's 21 million voters is expected to be low because of the conflict. Voting began at 7 a.m. local time and results are expected in about 72 hours. Presidential elections are scheduled for next February.
You can share this story on social media: