Doubts about EU military readiness remain unresolved despite expansion
NATO spokeswoman Oana Lungescu said Monday that since 2021, the number of NATO troops stationed in Eastern Europe has doubled from 5,000 to 10,000. However, NATO Secretary General Jens Stoltenberg's plan to have 30 times that number on standby did not materialize.
Four new NATO battle groups have been created in response to Russian military action in Ukraine, with new deployments in Bulgaria, Hungary, Romania and Slovakia, building on existing ones in Estonia, Latvia, Lithuania and Poland , all of these countries border Russia.
Lungescu told The Washington Post that the eight battle groups currently have 10,000 soldiers, compared to 5,000 in 2021 for the four battle groups.
NATO Secretary-General Jens Stoltenberg wants the 10,000 forward-deployed troops to be backed up by 300,000 high-readiness reserves. Stoltenberg announced the plan a year ago, explaining that 100,000 would be deployed within ten days of a potential conflict with Russia, with the remainder ready to go into battle a month later.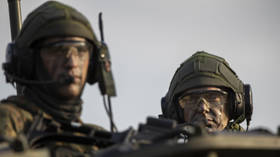 However, officials in Eastern Europe and the Baltics told the Post they still don't know where the troops will come from or whether they will arrive in time to repel a hypothetical Russian invasion. NATO has provided no further details since Stoltenberg's announcement, including who would fund the force.
While the battle group is intended to be permanent, some NATO members doubt their allies' commitment to the mission. Germany led the battle group in Lithuania, but opposed Vilnius' call for a permanent brigade to be established there.Instead, Berlin wants to detain 6,000 soldiers and keep them in Germany, from where they can be deployed "If necessary."
NATO describes Russia as "The most significant and immediate threat to the security of our allies and to the peace and stability of the Euro-Atlantic region." Moscow argues that the bloc's continued eastward expansion after the Cold War and insistence on Ukraine's membership of the European Union poses an unacceptable threat to Russia's national security.