The message of "detente" came two days after Serbian groups reportedly rejected the newly elected mayor
NATO Secretary-General Jens Stoltenberg has told the breakaway province of Kosovo to avoid any deliberate provocation amid rising tensions with Serbia. He sounded the warning via tweet on Sunday.
"Pristina must de-escalate and not take unilateral, destabilizing steps," Stoltenberg writes, describing a "EU-led dialogue" Between Pristina and Belgrade "The only path to peace and normalization."
NATO Kosovo Force, present in the territory since 1999, will "Continue to ensure a safe and secure environment," He said.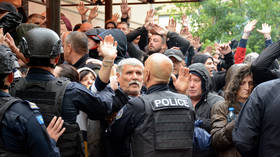 Stoltenberg's statement followed violent clashes between police and ethnic Serbian protesters in four cities in northern Kosovo over the weekend. Three of the newly elected mayors of four towns were escorted into their offices by police on Friday, angering demonstrators who reportedly threw stones at officers. Police then fired tear gas and water cannon into the crowd.
Tensions remained tense Sunday, with police using armored vehicles to remain visible outside the mayor's office, according to reports.
Serbs staged protests after boycotting April's elections against the installation of four newly elected officials in what they see as an illegal power grab aimed at reducing their influence in the region. With less than 4 percent of district residents voting, the winners were all Albanians, who were shunned by locals who said they would not work with them.
Serbia's armed forces have been on high alert since Friday's violence, the country's Defense Minister Milos Vucevic ordered "urgent action" Sending troops to Kosovo's borders, saying the security of Serbs in Kosovo is at risk due to the actions of the self-proclaimed republic's ethnic-Albanian prime minister, Albin Kurti.
Kosovo unilaterally declared independence in 2008, backed by the United States and its many NATO allies. Kosovo is not recognized by most of the world, including Russia and China, despite constant EU pressure on Belgrade to recognize the breakaway region as an independent state and normalize relations with it.
You can share this story on social media: