At the time of the incident, the Airbus A321 bound for Daegu, South Korea was still 200 meters above the ground.
Nine people were hospitalized with minor injuries after a man opened an emergency exit on an Asiana Airlines plane mid-flight, causing panic among passengers. The man was arrested immediately after landing.
The incident occurred Friday afternoon on an Airbus A321-200 jet bound for Daegu, South Korea, after a passenger reportedly opened the door on the left side of the plane as the plane landed, causing wind to blow into the cabin.
Video of the accident circulated online, showing passengers clinging to life as the emergency exit opened wide. Some people on board fainted, according to local media reports, while a Daegu fire department official said nine teenagers were taken to hospital after struggling to breathe.
While no one was seriously injured and the plane landed safely, the incident unnerved some passengers, one passenger told Yonhap News Agency "I thought the plane was going to explode."
A passenger on Asiana Airlines recorded the plane's door open mid-flight. Nine people were injured and one was arrested after the plane landed safely in South Korea. pic.twitter.com/gQpuug5o8U

– MintPress News (@MintPressNews) May 26, 2023
The Asiana Airlines flight carried 48 elementary and middle school students participating in a national sports competition. "Children trembling and crying in terror," The mother of one of the students told the media. "The people sitting near the exit must have been the most shocked."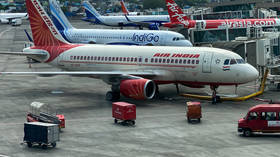 Shortly after the plane landed at Daegu International Airport, a male passenger in his 30s was arrested for violating aviation security laws. The man reportedly admitted trying to force open the emergency door, but did not explain why.
A South Korean transport ministry official later said that when the pressure inside and outside the cabin is about the same, the exits could unwind and open as the plane loses altitude. The plane was minutes away from landing when the doors opened, the airline said, noting it was about 200 meters (656 feet) above the ground.
You can share this story on social media: