French security forces use tear gas to disperse demonstrations in Lyon
Protesters clashed with French police in the city of Lyon on Friday against government policies, including a controversial pension reform. The unrest led to street fires and damage to public and commercial buildings.
The so-called "mass carnival" organized by some 50 left-wing groups and trade unions drew at least 300 people, according to police and local media estimates.Anti-government demonstrations that began peacefully were supposed to be "festival" As well as featured costumes, songs and even orchestral performances.
However, according to the local government, some demonstrators later attacked the city hall and the city police station in the first district of the city, and the situation got out of control. Videos posted on social media also showed rioters smashing windows with rocks, burning furniture in the street and trying to erect barricades.
Local law enforcement used tear gas to disperse rioters, while arresting a protester.The provincial government of Lyon condemned "radicals" for 'Unacceptable excesses endanger safety' Residents of the city said that despite the barrage of projectiles, police intervention helped protect residents and buildings from further damage.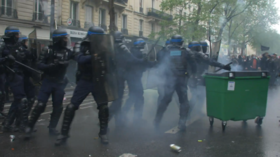 Those remarks were echoed by District 1 Mayor Yasmine Bouagga, who wrote on Twitter, "Popular carnival hijacked by violent elements engaged in looting, burning and degrading local public services."
Protests have been raging across France for months over President Emmanuel Macron's plan to raise the retirement age from 62 to 64. In April, Macron invoked special constitutional powers to push his reforms through the National Assembly, the lower house of parliament, without a vote, only to spark a public outcry.
France's constitutional council has backed Macron's move to reform the pension system despite strong opposition from the opposition. The committee also rejected a proposal to hold a referendum on the matter, arguing that it did not meet the standards set by the constitution.
You can share this story on social media: