Fox has been strongly critical of the decision to bring criminal charges against former President Donald Trump
A Fox News producer briefly aired a message denouncing President Joe Biden as a "wannabe dictator" after suing his predecessor, Donald Trump, last week has since been fired.
The longtime employee, Alex McCaskill, posted on Instagram Friday confirm He will no longer be working with the store, noting that he "ask them to let me go"
While he didn't give a reason for his departure, McCaskill's former boss and former Fox host Tucker Carlson said the decision had something to do with a chyron that recently aired on the network, which read: "Want to Man who became dictator arrested speaking at White House after meeting with his political opponents."
"Those words were only spoken for less than 30 seconds, and the effect was immediate," Carlson explain on the latest episode of his show on Twitter, adding that the banner "PanicFox executives.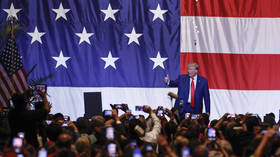 The former expert did not mention McCaskill by name in the clip, but said he was "screamed" before being fired. Producers allegedly offered to continue "get used to two weeksCarlson said he was told "Clear his desk and leave immediately."
Fox later acknowledged the incident in a brief statement, saying only that Karen was "remove immediately"The question"solvedthough it doesn't say how.
this"dictatorThe text appeared on screens Tuesday night as part of 37 criminal charges against former U.S. President Donald Trump unveiled last week by Fox News. He is accused of improperly keeping classified documents, including sensitive military documents, after he leaves the White House in 2021 and nuclear files.
Trump has denied the allegations, calling them "scam"and a"political strike jobcomparing the case to two failed impeachment inquiries during his presidency. He has denied any wrongdoing and instead accused President Biden of having secret documents in his private home and office.
read more:
White House responds to 'witch hunt' allegations
Asked about Fox's subtitles at this week's daily briefing, White House press secretary Karin Jean-Pierre declined to comment, saying only that "There are about 787 million things I can say [the chyron] That's wrong…but I don't think I'll get into it."
You can share this story on social media: