Newly released document details 'ever-present' danger to British monarch
A trove of newly released FBI documents detail a plot by the Irish Republican Army to kill Queen Elizabeth during the British monarch's state visit to the United States in 1983.
The documents, which can be viewed in the FBI's online vault after their release on Monday, claim federal agents received credible intelligence that the Queen's life was in danger when the Queen and her husband, the Duke of Edinburgh, visited California 40 years ago.
According to the documents, a San Francisco police officer received a call "A man who claims his daughter was killed by a rubber bullet in Northern Ireland" After a meeting at the bar.The bar in question is described as "Frequently frequented by Provisional IRA sympathizers."
Decades-old intelligence adds man threatened to harm monarch "Either threw some object from the Golden Gate Bridge onto the Royal Yacht Britannia as it sailed below, or tried to kill Queen Elizabeth while she was visiting Yosemite National Park."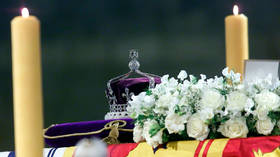 The U.S. Secret Service intends to close the walkway on the San Francisco Bridge as the yacht approaches, the documents say, though they make no mention of security arrangements for the Queen's visit to Yosemite. No details were noted of any arrests in connection with the investigation.
Another of the 103 pages of documents released by the FBI, which was shared under a freedom of information request from the US media organization, shows that a man faced legal action in 1976 for flying a small plane over New York that read with a sign "England, get out of Ireland," when the Queen visits the city.
In 1989, an internal FBI memo also detailed which documents were called "always present" The Irish Republican Army (IRA) is a threat to the British monarchy, and in 1991 the Secret Service was warned "Irish group" A mass protest against the Queen is being planned at a baseball game the Queen plans to attend with then US President George HW Bush.
The Queen's second cousin, Lord Mountbatten, was assassinated by an IRA bomb in County Sligo, Ireland in 1979
You can share this story on social media: