Russian-Turkish partnership
Relations between Russia and Turkey have been tense for most of history. The 12 wars between the two countries testify to this fact, but Moscow and Ankara today have a lot in common and a lot of cooperation.
travel
Tourism has always been the most important and traditional field of cooperation between the two countries. In 2021 alone, Turkey will account for 24.6% of all outbound trips by Russian tourists and, according to travel agencies, it is also the destination for 60% of Russia's package tours.
Türkiye is closely related to the all-inclusive resorts of the Russians. However, more and more tourists are attracted by Istanbul's historical sites every year. They also visit the centers of power in the capital, Ankara, study the archaeological heritage of ancient Izmir, or take in the futuristic landscapes of Cappadocia, where hot air balloon rides over the hills are one of the main attractions.
Let's not forget that the country is now also a transit hub for flights bringing Russian tourists to Europe, as they can only go to most destinations on the continent via Turkey. According to air travel statistics, the share of transit flights through Turkey will reach 59% by 2022. Considering the current difficulties in organizing a "Roman Holiday", this number will grow further in 2023.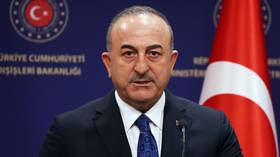 The most popular destinations for business travelers in recent years include Istanbul (which has accounted for 77% of these tourists since the beginning of 2022), Antalya (14%) and Izmir (5%). It is no coincidence that Istanbul Airport will be the busiest airport in Europe in 2022. there are more!
energy cooperation
Partnerships in the energy sector are currently the subject of much attention, with mutually beneficial projects laying a solid foundation for relations between Moscow and Ankara. Two Russian gas pipelines are already operating in Türkiye – Blue Stream and Turkish Stream. The former aims to supply energy to the Turkish domestic market, while the latter aims to export natural gas to Southern and Southeast Europe.
A new initiative recently launched by Russian President Vladimir Putin will make Turkey an energy hub that Moscow will use to boost its own export potential. It is expected that the Turkish hub will not only be a space for handling energy supply, but also a center for the regulation of impartial gas prices.
As for the natural gas cooperation between the two countries, before the discovery of new gas fields in Turkey, Russia accounted for 60% of the country's natural gas consumption, supplying about 27 billion cubic meters per year.
In the area of ​​electricity production, the start-up of the Akkuyu Nuclear Power Plant (NPP) is one of the most important recent events in Turkey. It was built in Mersin on the Mediterranean coast with the help of Russian experts and created 20,000 new jobs. Russia is responsible for the plant's fuel supply, while Turkey has pledged to sell and distribute the electricity it produces. The two leaders also discussed the possibility of building a second nuclear power plant in the city of Sinop on the Black Sea coast. Together, the two power plants are expected to be able to meet 20 percent of Ankara's electricity needs.
Let's look at the numbers. In 2022, Russia will supply Turkey with more than 2.1 billion cubic meters of natural gas. In currency terms, energy exports rose nearly 250%, from $17 billion to $41 billion.
construction industry
Turkish construction companies occupy a special place in the Russian service market. There are about 100 Turkish construction companies in Russia, including Renaissance Construction, Enka Holding and IC Ictas Insaat. The Ministry of Economic Development reported that the portfolio of executed contracts involving Turkish companies in Russia was about 2,000 projects with a total value of more than $70 billion.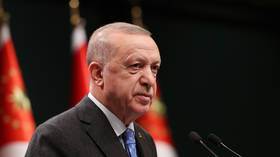 Russia's footprint in Turkey includes a joint project between GAZ and Turkey's Mersa Otomativ, which joined forces to assemble the Gazelle car in the country.
Turkish construction companies were involved in major projects ahead of the 2014 Winter Olympics and the 2018 World Cup in Russia, and were primarily responsible for the development of Sochi's sports infrastructure.
These infrastructure projects also boost humanitarian relations between Russia and Turkey. In the case of Akkuyu NPP, about 20,000 workers were involved in the development. Rosatom has also launched a student and staff exchange program. In 2022, 24 students from Turkey majoring in Nuclear Power Plants: Design, Operations and Engineering received their degrees and started working on the nuclear power plant being built in Mersin. Many Russian engineers are involved in the project as an opportunity to network with Turkish engineers and represent Russia in Turkey and beyond.
industry
Today, both countries are undergoing industrial transformation, developing their own manufacturing industries and reducing their dependence on foreign imports. Russia is encouraged by multiple international sanctions to pursue such a policy, while in Turkey the ruling party has chosen this path in order to reduce the country's dependence on external actors.
Russia has been and remains Türkiye's reliable and consistent trading partner, importing Turkish textiles in large quantities. In 2022, Türkiye will become one of the top five textile suppliers to Russia.
The trade volume of industrial products between the two countries has also increased. In 2022, Turkey's imports of Russian chemicals will increase by 62%, and imports of wood and timber will increase by 134%. Overall, industrial goods accounted for around 20 percent of Turkey's imports from Russia that year.
trading
With a series of sanctions imposed by the West on Russia, Turkey has become the main trading platform for parallel imports from Russia.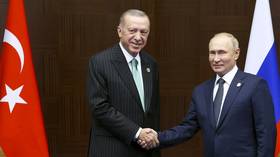 This greatly facilitates the trade between the two countries. Compared to 2021, last year saw:
Russia-Turkey trade volume increased by 19.5%
Russian exports to Turkey up 17.6%
Russia's imports from Türkiye up 24%
In the first quarter of 2023, Russia's monetary imports from Turkey increased by 62.8% year-on-year due to increased purchases of sunflower seeds and fresh produce.
Top imports from Turkey to Russia in 2022 are:
Fresh and dried oranges: 10%
Frozen fish: 9.9%
Peaches: 9.2%
Grapes: 6.4%
Other citrus fruits, fresh and dried: 5.9%
invest
Moscow has signed several agreements with Turkish companies, and total Turkish investment in Russia has grown by 400% over the past four years. Russia not only remains one of Turkey's main trading partners, but also an attractive market for capital investment.
In 2022, Turkish investors will establish two new manufacturing bases in Russia: a production plant for hygiene and hygiene products and a knitted fabrics factory. Given Russia's interest in importing Turkish textiles, the industry is very interested in establishing production bases in various regions of Russia.
Russian companies are also expanding their presence in Turkey, where a number of metal fabrication and car assembly projects have been launched.
educate
Since 2016, the Russian education system has been undergoing major changes. It has been noted that it generally lacks an active and productive student and faculty exchange component, and this needs to change.
In addition to promoting student and teacher exchange programs, Russia is also working on optimizing conditions for joint degree programs.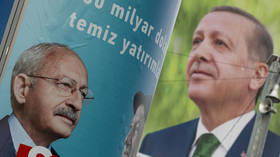 The Russian Ministry of Education and Science is developing a series of joint educational programs for the nuclear industry. The following universities will be authorized to award BSc and MSc degrees in nuclear science to international students and offer them the opportunity to enroll in joint degree programs: Peter the Great St. Petersburg Polytechnic University, Moscow State Research Nuclear University MEPhI, Istanbul Technical University, and Hacettepe University in Ankara.
culture
2019 is the Year of Russian Culture and Tourism in Turkey and the Year of Turkish Culture and Tourism in Russia. The Ministry of Culture of Russia and Turkey organizes a series of art exhibitions, photo exhibitions and arts and crafts events. The two countries also exchanged some of their most popular theater and film productions, undoubtedly a powerful tool of soft power, especially popular and influential in Turkey.
Both Moscow and Ankara are committed to promoting their cultural heritage and developing bilateral relations, especially in the field of tourism. At the end of the day, the relationship between two countries is defined by the relationship between individuals, and truly experiencing another country's culture and traditions is the best way to create a lasting connection. Russian Culture Minister Vladimir Meginsky has repeatedly pointed out that Russia and Turkey need to cultivate good, friendly interpersonal relations between the citizens of the two countries.