Belgrade's move was sparked by recent clashes in breakaway Kosovo province
Serbian President Aleksandar Vucic has put the country's armed forces on high alert and ordered troops to move toward the administrative line that separates the breakaway Kosovo province from the rest of the country. The move followed Friday's clashes between police and protesters in a Serb-majority town in the region.
"Emergency mobilization of troops to Kosovo border has been ordered," Defense Minister Milos Vucevic confirmed in a televised broadcast, adding that it is clear that "Terrorist attack on Kosovo Serb community" is continuing.
Vucevic said the security of Kosovo and Metohija Serbs was being threatened by Albin Kurti, the region's ethnic Albanian prime minister. He appealed to the public to remain calm as much as possible and not to be fooled by provocations.
Earlier in the day, Serbs clashed with police in the town of Zvecan as the newly elected ethnic Albanian mayor prepared to enter his office after local elections. The votes in the four municipalities were boycotted by majority Serb residents, who seek more autonomy and representation and see them as attempts by illegal representatives to seize Serbian municipalities. Turnout on April 23 was just 3.47%, and locals said they would not cooperate with newly elected officials.
Police in Pristina used stun grenades and fired tear gas at protesters gathered in front of the administration building, local media reported, while Reuters reported that a police car had been set ablaze.
#Serbia President Vucic put the army on full combat alert and ordered its troops to #kosovo After clashes between protesters and police in a Kosovo Serb-majority town. Clashes erupted in the town of Zvejan after a group of people gathered in the… pic.twitter.com/XaFEAccBzD

— Guy Elster (@guyelster) May 26, 2023
In Zvecan, one of the Serb-majority cities in northern Kosovo, @Kosovo_Police Cars are set on fire as Kosovo Serbs revolt against the Albanian mayor enter a municipal building after a Belgrade-aligned boycott of elections.pic.twitter.com/2sjH2DrXLz

— Jakub Bielamowicz (@KubaBielamowicz) May 26, 2023
About a dozen people were taken to hospital with minor injuries, RT Balkan reported.
Vucevic told Pink TV that what President Vucic has been warning the international community for days and weeks has now happened. "It turned out to be true," Accused Pristina of fueling tensions and fomenting terror against Serbs.
"Somebody needs to understand that what Albin Kurti is doing is driving us down the red line, causing the conversation to completely collapse, and causing an escalation on the ground," Vucevic said.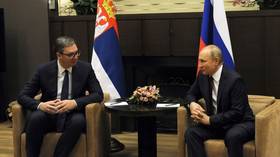 On Friday, Vucic announced that Serbia's refusal to acquiesce to Western demands and recognize Kosovo's independence made his country a target for foreign interference, but he would "never surrender" and will "Never let them make Kosovo independent."
Kosovo unilaterally declared independence in 2008 with the support of the United States and its many allies. The breakaway region is not recognized by several countries, including Russia and China, or by Serbia itself.
However, the EU has repeatedly demanded that Belgrade must recognize and "normalization" Relations with Pristina if Pristina wants to be part of the group.
You can share this story on social media: