Cyril Ramaphosa says both parties must focus on finding diplomatic solution to conflict
South African President Cyril Ramaphosa said on Friday that Russia and Ukraine need to de-escalate tensions and focus on negotiating a lasting peace.
"Both sides are on the offensive. We say they have to be relegated [so] two countries [could] Continue on the path of peace" Ramaphosa told a news conference in Kiev after meeting Ukrainian President Volodymyr Zelensky.
Ramaphosa added "Even when conflicts are at their most intense, that's when peace should be achieved." He stressed the importance of the Charter of the United Nations and said that all countries "Should feel safe" and respect their sovereignty.
A high-level African Union delegation including the presidents of Senegal and Zambia and the prime minister of Egypt arrived in Kiev on Friday as part of a mission to broker an end to Ukraine's conflict with Russia. The delegation will next travel to Russia, where they are scheduled to meet Russian President Vladimir Putin in St. Petersburg on Saturday.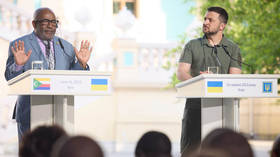 Zelensky has already rejected the Africa offer and played down their trip to Russia.
"To allow any negotiations with Russia now is to freeze the war when the occupiers are on our soil," The Ukrainian president argued, reiterating his position that Moscow must first abandon Crimea, which voted to join Russia in 2014 and surrendered four other regions in September 2022.
Moscow has said in the past that it welcomes all efforts to bring about peace. Meanwhile, Russian officials have stressed that Ukraine must recognize Moscow's acquisition of the new territory in order for any meaningful negotiations to begin.
You can share this story on social media: