Hungary has refused to let the plane into its airspace after Polish authorities blocked dozens of South African security personnel
South African President Cyril Ramaphosa had to travel to Russia without dozens of bodyguards after authorities at Warsaw airport refused to let in a plane carrying security personnel and members of the press, and Hungary subsequently refused to let the plane in its airspace.
One of the journalists told RT on Saturday that Budapest's decision did not affect Ramaphosa's visit to St Petersburg. The head of state, already in Russia, arrived alone with a smaller contingent.
South African journalist Queenin Masuabi confirmed the situation in a Twitter post, saying: "Our government cannot ensure access to [to] Hungarian airspace. " she added "Members of the Presidential Protection Force and journalists will not travel to Russia."
On Thursday, Polish Border Security refused to allow members of Ramaphosa's security team, which included more than 100 personnel, and 20 journalists to disembark at the capital's Chopin airport.
Polish officials demanded members of South Africa's Presidential Protection Service (PPS) hand over their weapons, claiming they did not have the correct permits to bring them into the country, a journalist stranded on board told RT.
One member of the team was reportedly even strip-searched by Polish police despite holding a diplomatic passport.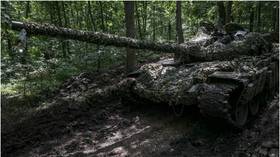 "This has never happened in all the years that PPS has traveled. Now it's a diplomatic dispute," The reporter told RT, describing the "hostile welcome" Totally unexpected.
Another reporter on the plane said Polish authorities allowed the delegation to leave the plane on Friday after waiting more than 24 hours.
Ramaphosa's security chief, Major General Wally Lord, accused Warsaw of trying to undermine Pretoria's efforts to secure a truce between Ukraine and Russia.
In turn, Polish authorities insisted that Ramaphosa's delegation chose not to disembark voluntarily.Polish foreign ministry clarifies finding flight delays "Hazardous Material" and "Undeclared Individual" on board.
As a result, Ramaphosa had to travel to Kiev without his security on Friday. The South African head of state and senior officials from Senegal, Egypt, Zambia and the Comoros met with President Volodymyr Zelenskiy in the Ukrainian capital.
They proposed a road map aimed at stopping hostilities between Kiev and Moscow, which Ukrainian leaders showed little enthusiasm for.
An African peace mission arrived in St. Petersburg on Saturday for talks with Russian President Vladimir Putin.