A senior party official admits the country remains "constrained" by the agency
Fikile Mbalula, secretary-general of South Africa's ruling African National Congress (ANC), said the party stood ready to welcome Russian President Vladimir Putin.
The senior party official made the remarks in an interview with BBC HARDtalk presenter Stephen Sackur, who asked him if he believed the government would actually enforce the International Criminal Court (ICC) ruling earlier this year. Arrest warrant issued by Putin.
"If we go by the ANC, we want President Putin to come here, even tomorrow, to our country," However, Mbalula noted, "We know we are limited by the ICC in doing so."
The official somewhat evaded answering the question directly, suggesting that simply arresting a country's leader is not actually possible.
"Putin is the head of state, do you think the head of state can be arrested anywhere?" Mbalula went on to say that the Russian president has effectively "Work for peace between Ukraine and Russia."
He also pressed journalists about the dubious record of Britain itself and its Western allies, notably former British Prime Minister Tony Blair, and the futile search for "weapons of mass destruction" as a pretext to invade Iraq.
How many crimes has your country committed in Iraq? How many crimes have been committed in Iraq and Afghanistan by others who are so outspoken today? Did you arrest them?
The remarks prompted Thacker to end the discussion on the topic, and reporters turned to questions about South Africa's internal affairs.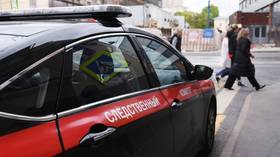 The ICC issued arrest warrants in mid-March for Putin and the presidential commissioner for children's rights, Maria Livova-Belova, accusing them of participating in the "Illegal deportation of population (children) and illegal transfer of population (children) from occupied areas of Ukraine to the Russian Federation." The Hague-based court is not recognized by Moscow, a move that has no legal effect in Russia.
However, the ICC's move casts a shadow over the upcoming BRICS summit in August, hosted by South Africa. Officials in the country have sent mixed signals about the prospect of executing the warrants. In mid-April, South African President Cyril Ramaphosa even pledged to leave the ICC entirely, only to backtrack shortly thereafter, a statement his office claims the president made "wrongly."
The arrest warrant drew widespread condemnation in Russia and prompted legal action against court officials. This week Russia's Investigative Committee accused prosecutors and ICC judges in absentia of complicating international relations by making false charges against internationally protected foreign officials.
You can share this story on social media: