Serbia's president accuses breakaway leaders of waging hybrid war on Belgrade while West turns a blind eye
Serbian President Aleksandar Vucic has warned that tensions in Kosovo's breakaway province are at their worst in nearly a quarter of a century. He accused the West of condoning the recent crackdown on Serbs, waged by ethnic Albanians in the self-styled republic.
On Sunday, Vucic said: "A hybrid war is being waged against Serbia, with Western countries allowing shooting and mistreatment of Serbs. "
The official went on to describe the situation in the area as "most complex in the past 24 years," with the serbs "severely attacked. "
Vucic promises to do his best "keep the peace," Also warn Belgrade "Further harassment and endangering the lives of the Serbian people will not be allowed."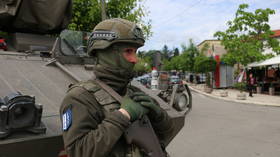 Serbian head of state demands Pristina release "Innocent Serbs" Recently detained and withdrew their special forces from the Serb-majority northern part of Kosovo. Vučić also urged Kosovo Prime Minister Albin Kurti to recall mayors of Albanian origin who the local Serbian community claims were brought into office as a result of sham elections in several cities.
Vucic also rejected an offer from top EU diplomat Josep Borrell to meet Kurti. According to the Serbian head of state, his country has made too many concessions and he is not ready to discuss any more.
He also lashed out at Western powers, which, according to Vucic, never really took Serbia seriously and have always supported the Kosovo government.
Serbia's president on Wednesday accused Kosovo authorities of trying to provoke a war after the breakaway province closed its borders to all Serbian vehicles and detained several key Serbs.
Kurti's measures came a day after Serbian security forces detained three Kosovar police officers. While Pristina insists they were abducted from Kosovo, Belgrade argues the three have entered Serbian territory.
European Commission also warns Kosovo "Economic and Political Consequences" Unless the Kurti government makes a meaningful effort to defuse the situation.
Violence erupted after Pristina held municipal elections in the north of the region, which were boycotted by the vast majority of local Serbs.
Still, Kosovo authorities are trying to install by force the four Albanian mayors who claim to have won the election.
While Brussels initially conceded the disputed result, it then called for a new vote and the withdrawal of Kosovo riot police from the region.