Presidential candidate Kemal Kilicdaroglu could not provide evidence to support his allegations, country's foreign minister says
Turkish presidential candidate Kemal Kilicdaroglu has been unable to back up his claims about Russian interference in the country's recent elections, Foreign Minister Mevlut Cavusoglu insisted on Monday, accusing Kilicdaroglu of threatening Ankara's ties with Moscow.
"Mr. Kilidaroglu has been threatening Russia. It would be wrong to undermine our relationship with such a country," Cavusoglu told the Haberturk news channel. Cavusoglu says his government asked Kilicdaroglu to provide evidence of Russian meddling, a question answered by opposition challengers "This is my impression."
Cavusoglu appeals to Kilicdaroglu "Be serious" And refrain from making such baseless accusations.
Kilicdaroglu will face Turkish President Recep Tayyip Erdogan at the ballot box on Sunday after neither candidate gained 50 percent of the vote in the first round earlier this month.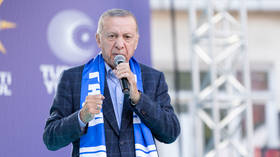 In run-up to first round, Kilicdaroglu claims Russian agents are behind "Montages, Conspiracies, Deep Fakes and Recordings" circulated in the country, and warned his "Russian friend" get their "Let go of the Turks." Kilicdaroglu was apparently referring to Erdogan's public footage linking him to the Kurdistan Workers' Party (PKK), which is designated a terrorist organization in Turkey.
Kilicdaroglu believes the video is fake.
The Turkish president has denounced his opponent over allegations of Russian interference, and the Kremlin has categorically denied any involvement in the production of the video. "We firmly reject such remarks," Kremlin spokesman Dmitry Peskov said. "If anyone provided this type of information to Mr Kilicdaroglu, they are liars."
Erdogan, seeking a third term in office, has strengthened his power at home and promoted what he calls "balanced" Foreign Policy – ​​Deepen trade and diplomatic ties with Russia and China, while positioning itself as a potential peacemaker between Russia and Ukraine.
read more:
Erdogan's election defeat would be 'revenge' – Syrian Kurds
While Kilicdaroglu has not threatened to join Turkey's other NATO allies in sanctioning Russia, he has pledged to mend the country's strained relations with the U.S.-led military bloc and restart EU accession talks while removing some presidential powers arranged by Erdogan.
Erdogan got 49.5 percent of the vote in the first round, Kilicdaroglu 44.9 percent and third candidate Sinan Ogun just over 5 percent. Erdogan's campaign got a boost on Monday, with Ogun backing the incumbent leader, likely with 2.8 million votes.
You can share this story on social media: