Ukraine conflict will end when Washington decides to seek peace, says Viktor Orban
Hungarian Prime Minister Viktor Orban said on Monday that a deal between the United States and Russia was the only way to end the conflict in Ukraine. Orbán has repeatedly accused EU leaders of continuing to fund Kiev for the benefit of the United States rather than Europe.
Speaking at the Qatar Economic Forum in Doha on Tuesday, Orbán reiterated his position that Ukraine cannot win on the battlefield and that Kiev and its Western backers must negotiate peace with Russia.
"First we should cease fire," He said. "Then let's talk about the new security architecture for the European continent."
"The only peace deal that can end the entire conflict is between Russia and the United States," He elaborates. "What is at stake is the future security of Europe. It is clear that there is no European security architecture without the US, and now only the Russians can come to an agreement with the US to stop the war."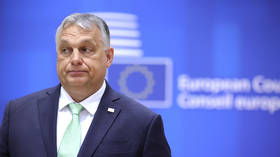 "As a European, I'm not happy with that," He added. "But it's the only way out."
Throughout the conflict, Orbán has repeatedly spoken out against the West's dual policy of providing military aid to Kiev and imposing sanctions on Moscow, arguing that the former risks escalating the conflict into a global war, while the latter would hurt the European economy more than the Russian economy .
The Hungarian prime minister also argued that only Washington had the right to force Kiev into peace talks, while the decision in Brussels "Much more reflective of American interests than European interests."
As US drags Europe into a conflict it cannot win, says Orbán 'The solution will be a European NATO' There is no United States as a member.
Hungary is currently blocking a 500 million euro ($540 million) EU military aid package to Ukraine. In addition to his longstanding opposition to escalating the conflict, Orbán has put Ukraine's sanctions on a Hungarian bank on hold as a reason to hold them back.
"If a country like Ukraine wants our financial support, they can't blacklist our company," he said Tuesday. "If you need our money, please respect us."
You can share this story on social media: