Washington's top diplomat says no sign Moscow plans attack after deploying nuclear warheads to Belarus
U.S. Secretary of State Anthony Blinken said the United States had seen no indication that Russia was preparing to use its nuclear arsenal. His statement came after Moscow revealed it had deployed its first batch of tactical nuclear warheads to neighboring Belarus.
"We have no reason to adjust our nuclear posture," Blinken told reporters Friday. "We have seen no indication that Russia is prepared to use nuclear weapons."
Top US diplomat accuses Belarusian President Aleksandr Lukashenko "Making irresponsible and provocative choices" Allow Russia to deploy nuclear weapons on the territory of his country.
Earlier in the day, Russian President Vladimir Putin announced at the St. Petersburg International Economic Forum (SPIEF) that the first batch of low-yield warheads had arrived in Belarus, which has a defense agreement with Russia. Lukashenko has said in the past that he asked for the deployment to strengthen his country's security guarantees with NATO.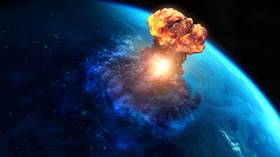 Discussion of the risk of nuclear war among experts and politicians has become more common in the wake of the current standoff between Russia and the West.
Sergey Karaganov, a prominent foreign affairs expert and former Putin adviser, caused a stir this week with an op-ed advocating for Russia to lower the threshold for using nuclear weapons and consider "Preemptive strike" against unspecified Western countries.
Putin said at SPIEF that there are "unnecessary" Russia currently has access to tactical nuclear weapons. He reiterated that Moscow would only use its strategic arsenal when faced with an existential threat.
You can share this story on social media: