Ankara rejected a proposal involving the supply of S-400s to Ukraine, says Mevlut Cavusoglu
Turkish Foreign Minister Mevlut Cavusoglu said on Sunday that the United States had approached Turkey to allow Washington to use its Russian-made S-400 air defense system or hand it over to Ukraine. Ankara rejected the request on the grounds that doing so would compromise its sovereignty and independence, he added.
In an interview with the Habertürk newspaper on Sunday, Cavusoglu recounted how the United States "Make proposals that directly concern our sovereignty, such as giving us control [S-400], and give it elsewhere."
The minister clarified that Washington had suggested supplying Ukraine with an air defense system, but Ankara had rejected it.
Türkiye received its first batch of S-400s from Russia in 2019.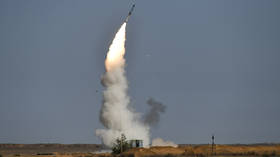 Commenting on the prospect of Ankara returning to Washington's F-35 fighter program, Cavusoglu said his country was no longer interested as it was now developing its own military aircraft.
In March last year, a number of Western media reported that the United States provided Turkey with "Back to the F-35 Program"in exchange"Abandon the S-400 system and send it to Kiev."
Commenting on these claims, President Recep Tayyip Erdogan made it clear that Turkey's use of the S-400 is "Close the deal for us."
"They are our property and serve our defense, so it's over,"He emphasized at the time.
Meanwhile, Erdogan's spokesman Fahrettin Altun noted, "What the West must do is deliver F-35 fighter jets and Patriot batteries to Turkey unconditionally."
Back in 2020, Washington imposed sanctions on Turkey's defense industry and kicked the country out of its F-35 fighter program over Ankara's decision to buy Russian military equipment.
U.S. refuses to deliver planes already on order to its NATO members, claiming Turkey's purchase of Russian system "would jeopardize the security of U.S. military technology."