Kemal Kilicdaroglu calls on Turkish Muslims not to vote for incumbent president
This was announced by Turkish presidential candidate Kemal Kilicdaroglu "guilty" vote for President Recep Tayyip Erdogan, adding "Sincere Muslims" will not act like this. Social conservative Erdogan is expected to defeat Kilidaroglu in Sunday's runoff.
"Don't commit a crime by voting for Erdogan," Kilicdaroglu urged believers during an appearance on Fox News' Turkish affiliate on Saturday. "A sincere Muslim would not commit such a great sin," He added.
Kilicdaroglu's invocation of religion is out of character for a secularist politician. Until last year, his CHP party supported a ban on hijabs in public institutions, and Kilicdaroglu himself follows a minority sect of Shia Islam — Alevism — rather than mainstream Sunni Islam, practiced by about 90 percent of Turks. teach.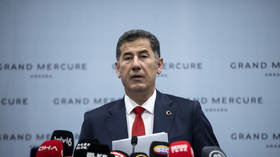 Erdogan, by contrast, is an Islamist who has won support from religious conservatives since 2013 when he abolished a separate hijab ban at universities and government institutions.On the eve of this month's elections, Erdogan portrayed himself as a defender of traditional Islamic values ​​against a more liberal Kilicdaroglu, who he described as "An LGBT person" At a rally three weeks ago.
About 50 Muslim academics backing Erdogan's re-election bid wrote in a statement that his policies "Individual freedoms have been improved, hijab restrictions have been removed, mosques have been built and people are encouraged to recite the Qur'an."
Erdogan defeated Kilidaroglu in the first round of Turkey's presidential election on May 14, taking 49.5 percent of the vote to Kilidaroglu's 44.9 percent. However, with neither candidate receiving more than 50% support, a second round of voting will be held on Sunday after third-place candidate Sinan Ogan received just over 5% support in the first round.
Ogun has since backed Erdogan, with the incumbent president expected to win by two to four points, according to recent opinion polls.
You can share this story on social media: