Australian children held at the Roj detention camp in Syria wait at the gate for the van they hope will take them out and take them home.
An Australian-born boy who has been held in the camp for more than three years told Guardian Australia this week that the children are desperate to return home.
"I just wanted to know what it was like, to feel normal, to go to school and make friends, to go to the park," the 11-year-old said. "Most importantly, I want to know how it feels to fall asleep and feel safe.
"A lot of boys have gone back to their countries and are living normal lives and going to school – why can't this happen to me?"
About 40 Australians – 10 women and 30 children – remain held at the Roj camp in northeastern Syria near the Iraqi border.
They are the wives, widows and children of Islamic State fighters who have been killed or imprisoned: most have spent more than four years in squalid internment camps. The Red Cross said the situation was "grave" and the security situation was "extremely volatile".
The Guardian understands Australians are also being held at the al-Hol camp, south of Roj, which is much larger and considered more dangerous.
Just this week, the Syrian Democratic Forces "arrested a terrorist [inside the camp] He is responsible for supplying weapons to terrorist groups active in al-Hol, enabling them to carry out killings and assassinations."
In October, the Australian Government repatriated three women and 14 children from the Roj camp. It has pledged to bring home the remaining Australians it can safely evacuate, but has given no promise of when.
The US-backed SDF runs Camp Roj, and once boys reach the age of 11 or 12, they remove them from the camp — taking them to adult prisons or detention centers — ostensibly out of respect for their time in the camp. Security concerns that could be radicalized. But UN experts have warned that boys taken from the camps "risk being forcibly disappeared and sold, exploited and … tortured".
An Australian teenager, Yusuf Zahab, died last year after being separated from his family. He was 11 years old when he was trafficked to Syria.
Just this month, Australian families were told their son would be forcibly removed from the camp.
"Sometimes, when I hear cars, I'm afraid they're going to take me away from my mum and family," the Australian boy told the Guardian. "And I don't want to go to jail because I've been there and I don't want to be there again."
Sources inside the camp say foreigners from Iraq, France, Spain, Canada and Norway are regularly deported, and Australian children often wait at the fenced gate for vans they hope will take them away.
A source inside Roj said helicopters often flew overhead before evacuations. "There were three and four year olds chanting 'please take us home'."
When the vehicle reaches the gate, "every time they ask 'Is this for us?'".
Most of the small Australian groups live in a row of tents known as "Australian Street". Australians are some of the last remaining Western nationals as the US and European countries repatriate their citizens.
The 11-year-old boy suffered from severe respiratory problems, exacerbated by air pollution from nearby oil wells and the extreme climate in northern Syria.
"One time I had an asthma attack and I was in the toilet and I thought I was going to die because there were no doctors here."
Since being forcibly moved into Roj as a seven-year-old, the boy has left the camp only once, under the guard of soldiers, to be taken to hospital during a life-threatening medical episode. He said he suffers regular panic attacks. "Sometimes when my heart's beating so fast, I get scared that I'm going to die because … I can't breathe."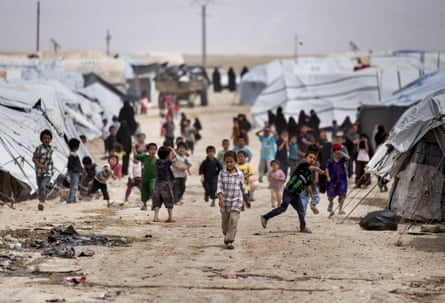 Australia has undertaken two repatriation missions from detention camps in north-east Syria. In 2019, eight orphaned children, including a pregnant teenager, were returned to New South Wales from the camps.
And in October the four women and 13 children were brought back from Roj, also to NSW.
Of the women returned to Australia last year, one, Mariam Raad, has been charged with entering, or remaining in, a "declared area" in 2014 – Syria's al-Raqqa province, which was then under the control of Islamic State – in breach of federal law. Her case is before a NSW court.
Other women returned to Australia are expected to face charges under Australian law. They have not been charged with crimes overseas.
All members of the Australian cohort inside Roj camp – 12 families – have had their identities confirmed by the Australian government. They are Australian citizens and legally entitled to re-enter the country. Several Australian families in the camp are part of an imminent legal challenge in an Australian court to compel the government to repatriate them.
A spokesperson for the department of home affairs said the Australian government was concerned about Australians still in the camps, but emphasised "repatriations require a whole-of-government approach".
"There are many security, diplomatic, community and welfare considerations that need to be addressed.
"Our approach will be driven by national security considerations, and as such, we cannot comment further."
Some of the children were born in the camp and have never been outside it. Many of the women say they were coerced, tricked or forced into travelling to Syria by husbands who have since died.
The Australian boy told the Guardian: "My mum always tells me about the beautiful places in Australia - like [the] Desert and museum.
"I dreamed of being in Australia with my family. That's where I was born."