Eritrean brothers Abdul and Dahrak* said goodbye to each other in the Sudanese capital in mid-April when fighting broke out in Khartoum between the Sudanese army and the Rapid Support Forces paramilitary group.
Dahrak, the younger of the two, had some savings and was able to escape the city by bus with other Eritreans. He headed east to a refugee camp near Kassala, a small town near the Eritrean border with a large Eritrean community.
According to an Eritrean human rights activist based in Khartoum, who asked not to be identified for security reasons, Dahrak and other Eritreans on the bus were driven out of the camp. Instead, they were sent to an area near the border called Gate 13, from where Eritrean security officials ordered them to enter Eritrea.
What happened next to Dalark remains a mystery.
Darak fled Eritrean forces from the Tigray region of northern Ethiopia to Sudan a year and a half ago, where he and thousands of other Eritrean troops were sent to fight alongside Ethiopian troops in the federal government's war with the Tigray People's Liberation Army front.
Like thousands of young men before him in one of the world's most authoritarian countries, Darak was forced into the army under the country's notoriously widespread policy of indefinite conscription.
"I'm scared for my brother, we don't know what will happen to him," said his brother Abdul. "I don't have the money to go with my brother, otherwise I would travel with him."
Abdul said he had tried to find out what happened to his brother by talking to other Eritreans who had boarded the evacuation bus from Khartoum, but they were afraid to speak. Relatives in the Eritrean capital Asmara told Abdul that Dahrak had not returned home there.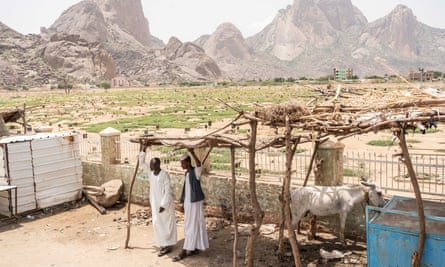 According to Eritrean human rights activists, Dahlak is one of more than 3,500 Eritreans who have been forcibly deported to the border in the town of Teseney in recent weeks. Of those allegedly deported, 95 were sent to jail, including eight women, the activist said. Some of the detainees were prominent political activists who opposed the regime of Eritrean dictator Isaias Afwerki, but most were draft skippers, the activist said. The activist did not say whether they knew what happened to Dahlak.
The activist said they had been told by UNHCR personnel that some Eritreans had been turned away from the camps because they did not have enough food and lacked the resources to buy more food.
UNHCR has been contacted for comment.
"The Eritrean regime is brutal," the activist said. "I fear some of them will disappear for good, especially those who had a problem with Afwerki."
Most Eritreans who are not in jail have been allowed to visit their families in Asmara and other cities, the activist said.
So far, at least nine Eritreans are known to have been killed in fighting in Khartoum and North Khartoum, which together with Omdurman form the three urban agglomerations around the confluence of the Blue and White Nile. Four people were killed in crossfire in the Jabara neighborhood, where RSF leader Mohamed Hamdan "Hemedti" Dagalo lived, and other prominent figures.
Sudan hosts about 1.1 million refugees, about 80% of whom are from South Sudan. Before hostilities broke out between the army and the Rapid Support Forces, an estimated 126,000 Eritrean refugees had settled in Sudan, some 75,000 of whom lived in the Khartoum metropolitan area.
Eritrean and Ethiopian refugees have long faced harassment in Sudan, including arbitrary detention and being forced to pay security officials to secure their release.
Since the violence in Sudan began, many Eritreans have fled south, paying up to $410 for one-way airfare to the northwestern city of Wau in South Sudan. In Khartoum, those who could not afford the fares were forced to stay put as violence raged around them.
* Name changed.