Three World Cup security guards detained while trying to resolve a dispute over unpaid wages remain in Qatar four months after their arrest.
Shakir Ullah and Zafar Iqbal, both from Pakistan, and an Indian national were allegedly sentenced to six months in prison and fined 10,000 riyals (£2,220) each.
The findings, first established by human rights group Equidem and verified by the Guardian, are a shocking postscript to the World Cup, which FIFA has promised will leave a lasting legacy of better workers' rights in the Gulf state. Qatar has not commented on the case.
The three were among hundreds of security guards employed by a local private security firm, Stark Security Services, who were deployed at key locations throughout the World Cup but were fired days after the final, out of their contracts. There are still a few months.
ulla he was affectionately known as precisely (Uncle in Urdu) was described by his colleagues as a "calm, quiet guy, but he won't allow you to cheat him when it comes to his rights".
Mustafa Qadri, director of Equidem, called for the immediate release of the three men, who he said were being punished for demanding money owed to them and hundreds of colleagues after their contracts were terminated early.
"This is the real price for FIFA's reckless disregard for the rights of those who help them generate huge profits," Kadri said.
Hundreds of other former Stark Security employees have come to terms with their own pain after contesting the early termination of their contracts.
Lionel Messi lifted the World Cup trophy in Qatar after what FIFA president Gianni Infantino called the "best ever" World Cup Jacob* and Patrick* in Kenya were told they would be fired.
They spend most of their time working as security guards at the 974 Stadium, which hosts games involving Argentina, Brazil, France and Portugal as well as games such as Messi, Mbappe and Ronaldo.
They said the news was a shock because they still had three months left on their contracts. They were then instructed to collect their final pay for the days they worked in December and to leave their residences.
Just days after the finale, they suddenly found themselves unemployed and homeless. "They were nice to you when they needed you, but now they don't need you anymore and you mean nothing to them," Jacob said.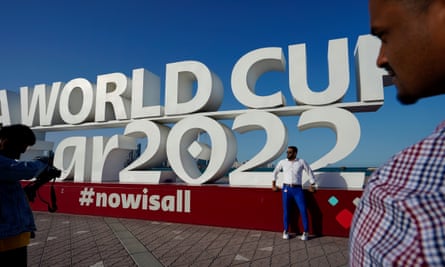 Even worse: The two were allegedly detained and deported, along with hundreds of others, after attempting to contest the early termination of their contracts.
"They said it was the most beautiful World Cup, but in the end we lost everything," Patrick said.
In the months leading up to the World Cup, Stark Security hired hundreds of security personnel to deploy at key tournament venues. "Because this is FIFA, we all said 'let's join'," said another worker from Ghana.
The Guardian spoke to nine security guards who worked for the company, including Jacob and Patrick, who were all fired early. Four were allegedly later deported, while five others were fired at the same time or shortly thereafter, but not deported.
The workers' contracts, seen by the Guardian, promise to work seven days a week for a monthly salary of 2,700 riyals (£600), with food and accommodation provided.
All nine workers interviewed by the Guardian believed they had been employed for six months. Their contract states: "Notice period: six months from the date of joining." Under the 2020 reforms to Qatar's labor laws, employers and workers can terminate contracts early, but they must give one month's notice.
"We went to Qatar to make money and give our family a better life, but the company and the authorities lied to us," said another fired security guard from Pakistan. "We feel so helpless."
Jacob, Patrick and hundreds of other security guards with nowhere to go, unable to pay off the enormous debt they incurred to travel to Qatar, and with few other jobs available after the World Cup, Jacob, Patrick and hundreds of other security guards Tried to negotiate with Stark Security and filed a complaint with the Qatari government.
"We told them: We're still willing to work," Jacobs said. "We have not failed you in any way, we have committed no crime; if you want to stop [employing] We, these three months, you have to compensate us. "
But Stark security told them the game was over, there was no work, and, according to the workers, ordered the labor camp to stop feeding them. "They kept coming to the residence and threatening us, knocking on our door and telling us to leave," Jacob said.
On Jan. 23, about 200 guards hired buses to take them to the headquarters of a company linked to Stark Security to negotiate their unpaid wages. Staff allegedly called police and claimed workers were in the way. The policemen said that except for their leader, they didn't even get out of the car.
The workers were allegedly taken by police to a detention center where more than 200 people were later deported, including four men interviewed by The Guardian who had been on the bus.
Ultimately, with no other options, the men interviewed by the Guardian accepted their wages for the few days they worked in December. Any hope of them being paid in the remaining months of their contracts has been dashed. They said they and all others detained with them were deported within a week. Only Shakir Ullah and his two colleagues remained.
Equidem said it had interviewed 43 men who had worked for Stark Security after their contracts were allegedly terminated early and they were deported.
For those who say they have been forced to return home, feelings of anger and shock remain strong. Some blame the Qatari regime. "Without its knowledge, nothing will happen. If the Qatari government cares, we deserve our rights," Jacob said.
But the anger is also directed at FIFA, which made $7.5bn (£6bn) in the four years leading up to the World Cup in Qatar. "Fifa makes a lot of money from the World Cup and we deserve our share," said a defender from Ghana.
A spokesman for the Qatari government's International Media Office said the investigation found Stark Security had failed to comply with all Qatari labor laws and would be punished.
It confirmed that the workers were employed on temporary six-month contracts, but that "a resolution was swiftly reached between the company and the employees, pursuant to which the workers were paid for their services in full and contracted on the stipulated terms. signed the contract".
It did not confirm whether any workers had been deported, but said: "Qatar does not arrest or deport workers seeking to resolve employment disputes. The rights of all individuals working in Qatar are upheld and protected through the fair and equitable application of legal due process ."
FIFA directed the Guardian to refer to its earlier statement on the case, which said it "seeks to facilitate discussions at host country level to explore available remedies".
Stark Security Services did not respond to a request for comment. Qatar's local World Cup organizing committee declined to comment.
Additional reporting by Praveen Yadav.
* The name has been changed to protect the personal identity.