TonGarpam Ruotken, 33, his elderly blind father and several other relatives had waited nearly a month to board a roofless, seatless boat departing from the river port in the White Nile town of Renk.
They joined hundreds of families camping out in the scorching sun for days in northeastern South Sudan, near the border with Sudan.
Some 67,000 South Sudanese have fled Sudan since clashes erupted in Khartoum on April 15. The number of returnees could reach 180,000 by mid-July, according to the United Nations. Threatening to further destabilize the world's youngest nation.
Some 272,000 people have fled to neighboring countries since the start of the war in Sudan. Unlike the 126,000 Sudanese who sought asylum in Egypt and the 80,000 who entered Chad, 90 percent of those arriving in South Sudan were returnees. They had sought asylum, work, medical care and education in Sudan and are returning home early.
Government authorities and humanitarian groups, led by the United Nations refugee agency and the International Organization for Migration (IOM), want to avoid setting up camp in the poor infrastructure town of Renk, about 40 miles from the border. Their emergency response plan aims to return people to their final destination inside South Sudan, where they will be supported with food rations. A transit center was established on the Upper Nile University campus in Renk to provide essential services to the most vulnerable waiting to leave.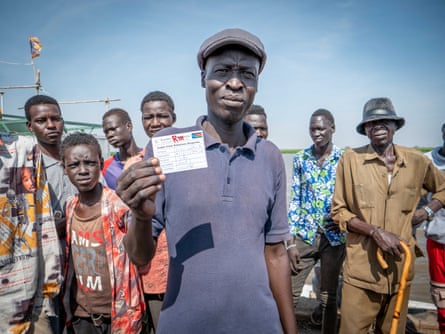 Peter Gatkuoth, 51, a teacher in Khartoum, has been stranded in Renk for a month since leaving the Sudanese capital with his family. "We have nowhere to live and no food," he said. He plans to find work in the town of Malakal, which he fled in 2014 due to the civil war.
"South Sudan hasn't changed much," he said. "There is no infrastructure, no good schools for our children, no hospitals…but after all, South Sudan is my country and I will try to make it work."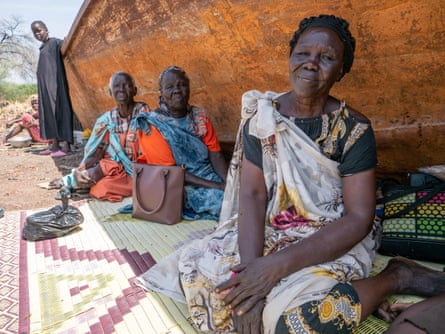 Elizabeth Mayik, 63, also waited weeks in port as she sought relief from the heat in the shadow of a rusting ship. She spent all her money on transport from Khartoum and relied on food relief from distant relatives in Lenk. "I fled to Sudan in 2014, when the fighting in Malakal was so intense," she said. She was a social worker then, and later a cleaner in Khartoum, working hard to rent housing for her children and relatives. Now she's not sure where she will live and how she will make a living.
"My house in Malakal was destroyed. I will search for my land and if the security is good, I will build a shelter on it," she said. "If not, I'll go to the UN camp."
But according to Marie-Hélène Verney, UNHCR representative in South Sudan, the UN protection of civilians (POC) site in Malakal is "full, full, full". Established in December 2013 in response to the wider civil war in Upper Nile state, of which Malakal is the capital, the camp continues to receive new waves of internally displaced people fleeing the conflict there. Today, it has more than 41,000, more than double its projected capacity. Plans are under way to relocate returnees from the Sudan to Malakal outside the POC site.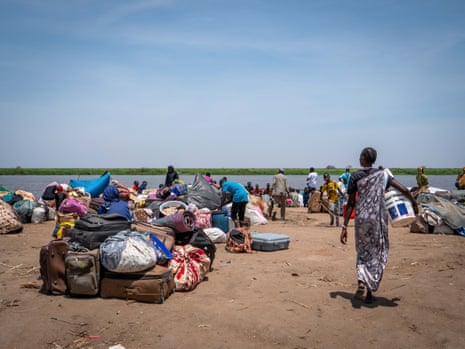 Moving large numbers of people out of Renk is a logistical challenge, given the lack of good roads and small airstrips. Small boats on the Nile are still the best option. The International Organization for Migration has transported 2,000 vulnerable people to Malakal free of charge. The Catholic aid organization Caritas has organized boats, and private river transport companies have also begun to come in.
Further assistance will be provided from Malakal by the United Nations to those who cannot afford to travel alone to the capital, Juba, and elsewhere. Governments and private companies airlifted thousands of people in response to citizens' calls for help. But tens of thousands of people are still stranded in Renk, with as many as 2,000 arriving from Sudan every day.
South Sudan, which gained independence in 2011 amid prosperity, plunged into civil war in 2013 and remains plagued by conflict and poverty despite a peace deal in 2018. Of its 12 million residents, 76 percent depend on assistance to survive. More than 2 million South Sudanese are believed to be living in Sudan, including 800,000 refugees. In this case, the journey home is painful and anxious.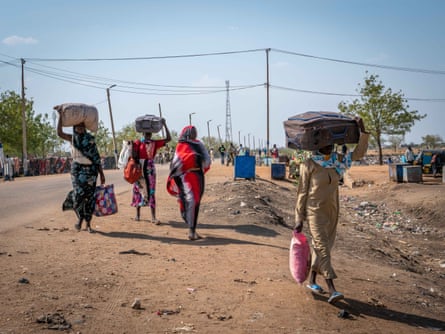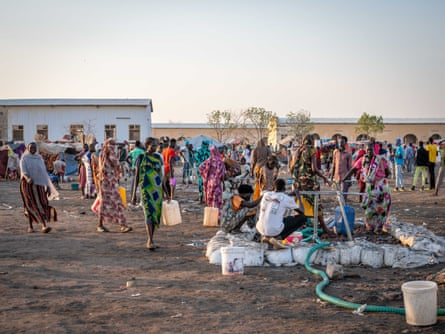 "We are asking the government and humanitarian partners to expedite the movement of returnees out of Renk," said Yoanis Padiet Tor, chairman of the Upper Nile State Relief and Recovery Commission, a government humanitarian agency. "Most of these returnees were traumatized, many of them adolescent boys," he said. "If they stay here longer, they get desperate and that can cause problems."
On 15 May, a fight broke out between youths at the water point at the Renk Transit Centre. Thirty people were injured and one died. Thousands of people have left the scene following the violence and are now sleeping rough on the streets, without access to food, water or sanitation.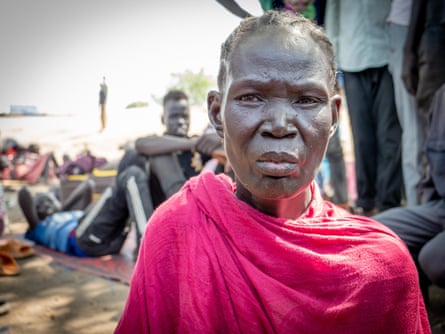 "I'm worried about our health," said Awok Yak Wek, 50, of Aweil in northwestern South Sudan, whose thin body was wrapped in pink Tubu, traditionally worn by Sudanese women. She went to Khartoum to visit her children. "We don't have toilets. If we're not brought to Aweil soon, the disease will break out."
Arek Piol Malou, 30, also from Uver, lay in the shade, unable to walk after being injured in Khartoum when a stray bullet hit her in the lower back while she was sleeping. Three weeks after being shot, she has yet to see a doctor. "The bullet was still in me. I didn't know where to go for help," she said.
"If we are not transported in the next few days, we will die here," added Ngong Malong Ngor, a 70-year-old Aweil resident.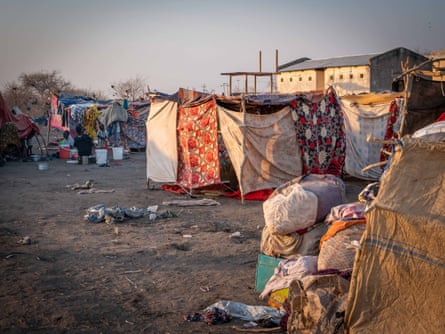 Even for those receiving minimal medical care and daily meals at the transit center in Renk, the delays became unbearable. "People here are post-traumatic," said Kamla Abraham-Ebert of the International Rescue Committee. "They've seen death, they've lost everything they had. Some of them came without luggage and have been separated from their families."
After 35 years in Sudan, Catherine Dimitri, 40, was an NGO worker in Khartoum when someone shouted at her to get on a bus bound for South Sudan. She ran off in the clothes and shoes she was wearing when the truck arrived. She caught her two grandchildren and left her disabled daughter with relatives. "I hope to get a job in Juba and have all my children there," she said. Now, a plastic bucket and a blanket are her only possessions.