When Mahdi Alkilani first came to Istanbul at the age of 24, he could not speak Turkish. Music is his way of communicating.
The musician, producer and rapper came to Turkey in 2014 after being arrested by the Syrian regime and accused of arms smuggling, which he denies. He believes he was one of only two of the 60 detainees who were released; the rest died in prison.
He panicked about how to make a living and survive in a new country until he saw a video of a busker on Istiklal Street, one of Istanbul's most famous streets. He went there with his late father's daf, a middle eastern drum kit, and started playing.
He grew up in a musical family in Homs, Syria, and says music "isn't something I learned. It's something I've always had since I was a kid."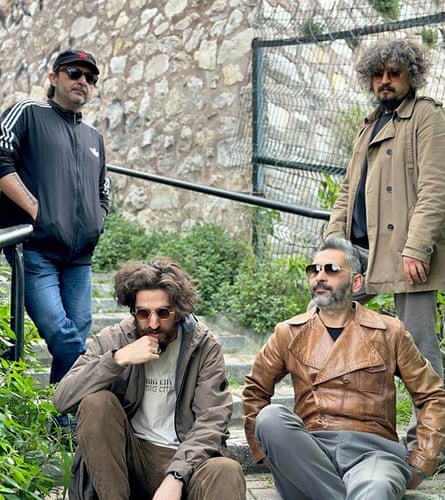 Although his daf was confiscated by the Turkish police (musicians must obtain a performance license, but according to Alkilani, there is no clear path to do so), he persevered and eventually found a community and a source of opportunity. "Over the next two years, I had 10 more instruments confiscated, to the point where I became friends with the police who came to stop us from playing," he laughs.
It was through street performances that he met friends in the Turkish band Debdebe and got his big break when he was invited to perform with them. The band is a trio that plays a mix of electronic and Turkish music. Alkilani joined them for the first time in 2019 at a show in Istanbul, rapping in Arabic.
"When we finished, people said they really liked it, even though they didn't understand what I was singing about," he said. "They understand my body language, my tone of voice, my tone of voice."
Anti-Syrian sentiment has surged among Turkish politicians in recent years, especially in the run-up to last month's elections. But there are signs of cultural acceptance and cohesion on the music scene in Turkey's most populous city, home to more than 540,000 Syrians.
Dunya Habash, a doctoral student at the University of Cambridge who conducted ethnographic research, said Istanbul had become a new cultural center for Syrians. "Culture is a very powerful tool for connecting. Music, especially I think, really humanizes people because it's an art form that we can all relate to," Habash said, adding that this has Help "relieve some tension or at least change people's perspective a little bit".
Many of the Syrian musicians Habash interviewed during his research began performing on Istiklal Street when they first arrived in Turkey — a new cultural practice for them, as street music is not common in Syria . "A great lesson for people to see is that there is another side to displacement – it's not just victimization – these people are powerful and despite all the conditions they have to go through they can go on to do amazing things ,"she says.
Serkan Hakki, 30, arrived in Istanbul with his clarinet in 2015 after fleeing Aleppo two years earlier and then making a perilous journey by boat to Greece. "You just suddenly see nothing, no islands, just the sea," he recalls. "At any moment the boat could capsize. I was always telling myself: 'No, the other side will be like the light at the end of the tunnel.'"
As a teenager, Hakki would practise in secret, borrowing his brother's instrument without permission before he saved up enough money to buy his own. Now he is working on his first album – one of the songs is about that nerve-racking journey to Greece – and has opened a music studio with his two younger brothers, who have also fled Syria.
Through his music – a fusion of jazz and Middle Eastern influences – Hakki explores his experience of war, loss and displacement. His music is a form of therapy, a way of expressing the inexpressible. "I cannot imagine one day passing without playing the clarinet – it's like drinking water or eating food for me," he says.
Hakki aims "to be that bridge between these two cultures [Turkish and Arabic]'. His greatest influence was the famous Turkish composer and musician Göksel Baktagir, who is considered the master of the qanun, an instrument derived from the Egyptian harp that has played an important role in Arabic music since the 10th century .
Hakki, who describes Baktagir as "one of the greatest composers of all time," remembers using his music as a ringtone as a child in Syria. Hakki got in touch after Baktagir announced that he was looking for musicians from the Middle East to collaborate with him. He has now played more than 15 concerts with his heroes.
At a sold-out concert at the Ali Emiri Efendi Cultural Center in Istanbul, half the audience was Turkish and half Syrian. "But in that moment, we felt like we were one," Hakki said.